The Quadro DD wooden loft ladder is the solution when 'standard' is simply not good enough. It is supplied as an easy to fit, made-to-measure unit. It also features an upper loft hatch that provides improved thermal insulation. In addition, the upper cover can be closed immediately after entering the loft, therefore preventing the flow of air. This not only helps to lock the warmth in the home or building, but also prevents moist air from flowing into the loft and condensing in the cold areas. Furthermore, the Quadro DD is suitable for ceiling heights of up to 3.44 m.
Key benefits at a glance
Traditional wooden loft ladder design.
Insulated upper loft hatch
Highly thermal insulation for energy efficiency (U value of 0.46 W/m2K).
4-point locking trapdoor for an airtight seal when closed.
Wide steps with anti-slip profile for comfort and safety.
Suitable for ceiling heights up to 3.44 m.
Pre-drilled hatch box for quick and easy installation.
Available made-to-measure.
3 part folding wooden loft ladder with adjustable tilt
Traditional wooden loft ladder design

Attractive styling
Quality finish
Load capacity of 150 kg per step
Supplied assembled in a hatch box with insulated trapdoor

Trapdoor supplied with a white finish to both sides
Upper cover with one-hand, gas-spring assisted operation
4-point locking mechanism
Standard hatch box height of 670 mm
Pre-drilled holes in hatch box for quick and easy installation
Energy efficient (U-value of 0.46 W/m2K, calculated by manufacturer according to DIN EN ISO 6946)

Reducing loss of heat and lowering energy costs
Class 4 air permeability certified
Made-to-order to meet your exact dimensional requirements, for floor-to-ceiling heights of up to 3440 mm (see 'dimensions' tab for details)
Wide steps / treads with anti-slip profile for comfort and safety

Step width of 330 mm
Step depth of 80 mm
Supplied ready to install with a standard with a range of accessories

Handrail for safety
Protective feet
Operating pole with hook
Snap-on cover strips in white
The Quadro DD loft ladder is made-to-measure, to suit your exact requirements.
Floor-to-ceiling heights from 1.95 m to 3.44 m
Opening lengths from 1000 mm to 1600 mm
Opening widths from 530 mm to 900 mm
Hatch box height of 670 mm
Please contact us to discuss your requirements and to arrange a quotation.
Manufactured and tested to EN 14975 (certified by TÜV SÜD)
Supplied with a manufacturer's 2-year full warranty and 10-year parts warranty
Accessories
The following accessories are only available for order with a loft ladder.  Please make sure to add the required accessories to your cart before checkout, or contact us directly to discuss your requirements.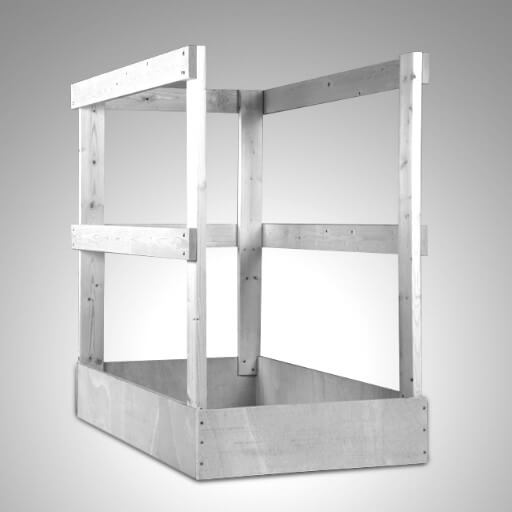 £65 (excl. VAT)
Suitable for maximum aperture of 1400 mm x 700 mm
Wooden pull-down loft ladder for a small opening
After over 30 years of regular use, Callan Cessford's pull-down loft ladder was in need of replacement. He needed a new loft ladder that would fit within the existing opening and was easy to use. Furthermore, Callan preferred the loft ladder to be made from wood, like his current one. The made-to-measure Quadro offered the ideal solution for Callan's needs.
"The person who helped me has been a carpenter for over 50 yrs. He was impressed with it."
Callan Cessford