Flat roof access ladder and hatch box solutions…
There are many important factors to take into consideration when choosing a flat roof access ladder and hatch.  These factors include safety, fire resistance, strength, durability, ease of operation, thermal insulation and weather-resistance. Premier Loft Ladders offer customised flat roof access ladder and hatch box solutions to cater for your specific requirements.
Weather resistant hatch box with retractable ladder…
Premier Loft Ladders offer a complete weather resistant hatch box and retractable ladder solution that is supplied ready to install. Designed to withstand the wind and weather, our flat roof hatches are water-repellent (Class E1200) and treated with fungicide. They can be supplied with a selection of different ladder options, including heavy duty retractable ladders (manual or electrically operated) or folding wooden ladders.  Furthermore, the flat roof access ladder and hatch box assembly are also available with up to 90 minute (F90) fire protection.
Another important benefit of our flat roof hatches are the high level of thermal insulation that they provide. U-values start at 0.43 W/m²K for a standard hatch box, but can be further improved with optional enhancements.
All of our weather resistant flat roof hatches are made to order to meet your exact requirements.  Please contact us to discuss your requirements and arrange a site survey.
Retractable flat roof access ladder and insulated hatch box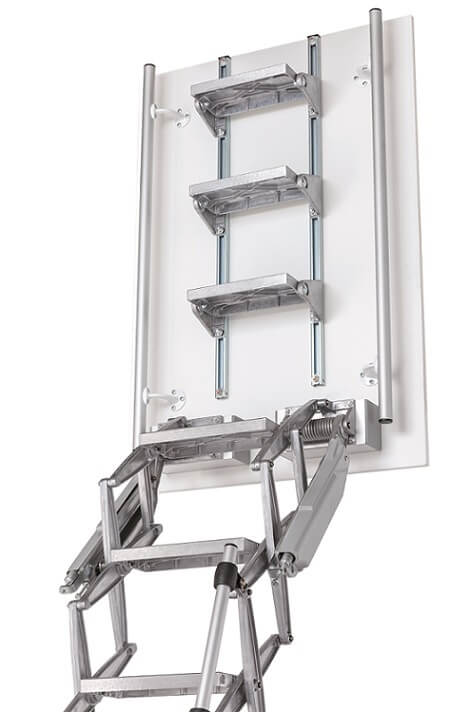 Elite retractable loft ladder with headboard is an ideal flat roof access ladder
Retractable aluminium ladders for flat roof access…
The heavy duty Supreme retractable aluminium ladder provides one of the best all-round solutions for flat roof access.  The heavy duty ladder is capable of supporting loads up to 200kg per step.  Opening and closing the Supreme requires a minimum amount of effort due to its integrated spring mechanism.  It also and comes with a telescopic handrail and large treads for enhanced safety.
The Supreme can be specified with either a wooden or steel hatch box and trapdoor.  There are also options to cater for a variety of fire resistance or energy efficiency requirements.  Furthermore, if can be used for floor to ceiling heights of up to 4.6m.
The Elite heavy duty retractable ladder offers the same load capacity as the Supreme (200kg per step), but is supplied without a hatch box or cover.  As a result, the Elite is ideal for replacing an existing ladder, or for use where a roof access cover has already been installed.  It can also be specified with a high-backboard (as shown here) with height-adjustable steps to enable egress through particularly deep ceiling-to-roof voids.
Wooden loft ladders for flat roof access…
For those preferring the style and aesthetics of a wooden ladder, there are a range of options available. The Designo heavy duty wooden loft ladder perfectly balances aesthetics with strength and quality.  It offers excellent energy efficiency as a result of its 6-point trapdoor locking mechanism and sealed hatch box.  Where fire protection is required, the ProfiLine is the ideal solution.  The fire resistant wooden loft ladder can be specified to F30, F30 Plus or F60.  Both of these ladders are available made-to-measure to ensure a perfect fit with your existing flat roof egress hatch.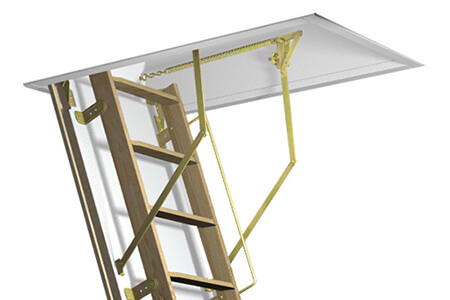 ProfiLine fire resistant wooden loft ladder
HELP
Can we be of help?
If you require help in choosing the right loft ladder, would like to discuss your application, arrange a site visit or request further information, please do not hesitate to contact us…
Telephone No: 0845 9000 195    Email address: sales@premierloftladders.co.uk