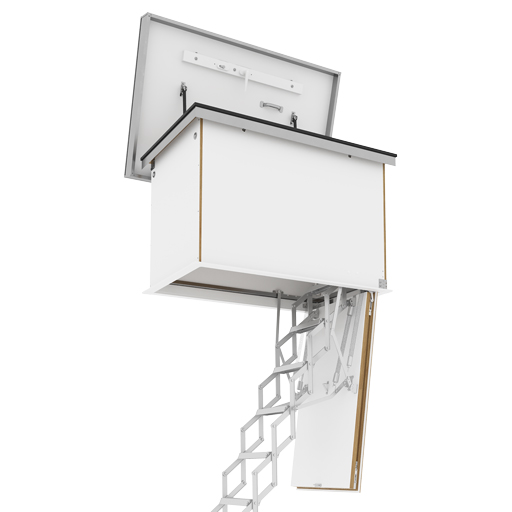 Ecco Flat Roof Access Hatch with Concertina Ladder
Compact, space-saving solution for easy access to a flat roof
KEY FEATURES
Material (ladder): Aluminium
Operation: Spring-assisted retractable ladder
Load capacity: 150 kg per step
U-value: 0.38 W/m2K
Max floor-to-ceiling height: 3.25 m
The Ecco flat roof access hatch with concertina ladder is designed for small ceiling / roof openings. It is supplied as a ready to fit unit, consisting of a space-saving aluminium ladder within an insulated and weather resistant hatch box. The insulated lower trap-door features a multi-point latching system, therefore giving an airtight seal (class 4 certified) all the way around the hatch. The weather proof upper hatch is clad in galvanised steel and features further insulation.
Key benefits at a glance
Space-saving retractable loft ladder for small ceiling openings.
Ease of use, lightweight and durable aluminium ladder.
Weather resistant flat roof hatch.
Load capacity of 150 kg per step.
Highly insulated (combined U-value of 0.38 W/m2K)
4-point locking trapdoor for an airtight seal when closed.
Lower trap door finished in white on both sides.
Available made-to-measure, with a range of accessories.
Retractable (concertina) loft ladder

Easy to operate
Compact, space-saving design
Concertina ladder manufactured from aluminium

Lightweight
Strength
Durability
Load capacity of 150 kg per step
Supplied assembled in a weather resistant hatch box with insulated upper and lower doors

Can be specified for heights between 650 mm to 830 mm
Wind and weather-proof roof hatch that is treated with fungicide*
Upper hatch clad in galvanised steel (water repellent – class E1200)
4-point locking mechanism
Pre-drilled holes in hatch box for quick and easy installation
Trapdoor supplied with a white finish to both sides
Energy efficient (U-value of 0.38 W/m2K, calculated by manufacturer according to DIN EN ISO 6946)

Reducing loss of heat and lowering energy costs
Class 4 air permeability certified (by IFT Rosenheim to DIN EN 12207 / 12114)
Made-to-order to meet your exact dimensional requirements, for floor-to-ceiling heights of up to 3250 mm (contact us for details)
Wide treads (330 mm wide by 80 mm deep) with anti-slip profile for comfort and safety
Supplied ready to install with a standard with a range of accessories

Protective feet
Operating pole
Snap-on cover strips in white
* Please note –  the sides of hatch box above roof deck level must be in-filled with insulation and protected with a waterproof membrane
Ecco concertina loft ladder
The Ecco concertina loft ladder (without a roof hatch)
Please click here for more details.
Made-to-measure…
The Ecco flat roof access hatch with concertina ladder is available made-to-measure for floor-to-ceiling heights from 2 m to 3.25 m, and opening sizes from as small as 800 mm long x 600 mm wide. The hatch box height/depth can be anything between 650 mm and 830 mm.
Please contact us to discuss your requirements and to arrange a quotation.
Supplied with a manufacturer's 2-year full warranty and 10-year parts warranty
Accessories
The following accessories are only available for order with a new Ecco concertina loft ladder.  Please make sure to add the required accessories to your cart before checkout, or contact us directly to discuss your requirements.
NBS Source
Technical specification for the Ecco concertina loft ladder can be found on NBS Source. Please select the 'Weatherproof Roof Hatch' to add it to the specification.
Ecco concertina loft ladder steps up to the challenge
Loft Boarding Scotland and their clients, Ian and Dianne, had a challenging set of requirements. Firstly, they needed a replacement loft ladder that offered safe and easy access to the loft of a period home. Secondly, the new loft ladder needed to be suitable for a high ceiling with only a small loft opening. As such, the compact Ecco loft ladder provided the perfect solution.
"So light, neat and simple to use"
Ian and Dianne