The Supreme heavy duty aluminium loft ladder is supplied as a ready to fit unit. It is manufactured from high strength die-cast aluminium alloy components contained within, and attached to, a laminated wooden hatch box and a 62mm thick sandwich construction insulated trapdoor. The Supreme therefore offers excellent thermal efficiency.
The heavy duty spring mechanism allows you to raise and lower the loft ladder with a minimum of effort (operating force of less than 3kg). In addition, large steps, non-slip protective feet and pre-assembled telescopic handrail offer comfort, safety and ease of egress.
Key benefits at a glance
High strength, heavy duty.
Load capacity of 200kg per step.
Ease of use, requiring operating forces of less than 3kg.
Space-saving retractable loft ladder for small ceiling openings.
High energy efficiency of 0.58 W/m2K.
Suitable for very high ceilings.
Large steps and telescopic handrail for comfort and safety.
Available in standard sizes or made-to-order with a wide range of options and accessories.
Spring-assisted retractable (concertina) loft ladder

Easy to operate, requiring less than 3kg of force to open/close.

Retractable ladder manufactured from pressure die-cast aluminium

Lightweight
Strength
Stability
Durability
High strength, heavy duty loft ladder, with a load capacity of 200kg per step
Supplied assembled in a hatch box with insulated trapdoor

Trapdoor supplied with a white finish to the underside
Standard hatch box height of 240mm, but can be specified for heights of up to 1170mm
Snap-lock closure mechanism
High energy efficiency (U-value of 0.58 W/m2K, certified by IFT Rosenheim according to DIN EN 12207 / 12114)

Reducing loss of heat and lowering energy costs
Class 4 air permeability certified
Available in standard hatch sizes for floor-to-ceiling heights between 2200mm and 2790mm
Can be made-to-order to meet your exact dimensional requirements, for floor-to-ceiling heights of up to 4600mm (contact us for details)
Large steps / treads for improved safety, comfort and ease of egress

Maximum stair width supplied to fit your floor-to-ceiling height and opening width
Step width ranges from 200mm (for a 525mm opening width) to 580mm (for opening widths of 915mm and over).
Step depth from 140mm (for steps up to 380mm wide) to 160mm (for steps between 430mm and 580mm wide)
Non-slip feet with rubber pads to protect the floor
Available with a wide range of accessories
Supreme Electric loft ladder
Supreme DD
Fire rated Supreme loft ladder range
Flat roof access hatch with Supreme Loft Ladder
Manufactured to EN 14975 (certified by TÜV SÜD)
Supplied with a manufacturer's 2-year full warranty and 10-year parts warranty
The Supreme loft ladder is available as a BIM model/object from Bimstore.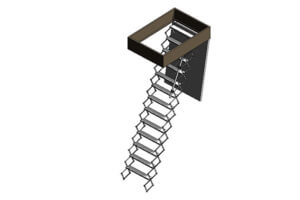 NBS Plus
Technical specification for the Supreme heavy duty loft ladder can be found on NBS Plus.
Suspended ceiling hatch and loft ladder
Premier Loft Ladders helped Horizon Construction provide a safe and convenient access solution to a 1st floor plant room within a premium car showroom. What made this project particularly challenging was the 1.8m deep ceiling void. In addition, the access point was also in a prominent location outside the showroom offices.
The Supreme loft ladder offered the perfect solution. The heavy duty concertina loft ladder featured a bespoke, deep hatch box. As a result, it provides safe and easy access to the car dealership plant room.
The Supreme loft ladder provides easy access to loft for everyday use in family home
Sam Beardsley Carpentry, had a client needing a high-spec loft ladder for everyday use in a brand new home. Already familiar with Premier Loft Ladders, Sam got in contact to discuss his project and review the available options. The Supreme was the obvious choice based upon the needs of Sam's client. The end result was a loft ladder that they were 'over the moon with'.
"The main thing I liked about Premier Loft Ladders were how quick they were in response to any questions I had."
Sam Beardsley, Sam Beardsley Carpentry