Picollo Premium Loft Ladder
The Piccolo Premium concertina aluminium loft ladder…
…easy to operate and perfect for very small ceiling openings
From £465 (excl. VAT)
Available from stock for delivery in 1-2 days
KEY FEATURES
Material: Aluminium
Operation: Retractable ladder
Load capacity: 150kg per step
U-value: N/A
Max floor-to-ceiling height: 3.00m
The Piccolo Premium loft ladder is easy to fit and made from aluminium alloy components. The Piccolo Premium's compact, space-saving concertina design makes it the perfect loft ladder for very small ceiling openings or use in an existing hatch box.
What makes this different to the standard Piccolo is the inclusion of a spring mechanism to assist with opening and retracting the loft ladder; making it very easy to operate and improving safety.
Key benefits at a glance
Space-saving retractable loft ladder for very small ceiling openings.
Lightweight and durable aluminium ladder.
Load capacity of 150kg per step.
Ease of use.
Easy to install.
Available in standard sizes from stock.
Spring mechanism makes operation easy and enhances safety.
Spring-assisted concertina (retractable) loft ladder

Easy to operate
Compact, space-saving design
Retractable ladder manufactured from aluminium

Lightweight
Strength
Durability
Load capacity of 150kg per step
Easy to install within an existing hatch box or directly to the ceiling timbers or masonry.

Supplied with a wooden backboard (380mm wide x 120mm high) and fixings
Available in standard sizes for floor-to-ceiling heights from 2m to 3m
Wide treads with non-slip profile

330mm wide (for opening widths of 410mm and over).
Step depth of 80mm
Can be made-to-order with a tread width of 280mm for ceiling openings as narrow as 360mm (contact us for details)
The Piccolo Premium can be fitted with a telescopic handrail for enhanced safety and comfort. Please note that a Piccolo Premium ordered with a handrail is made-to-order and cannot be supplied from stock.
Piccolo Premium Vertical
The Piccolo Premium loft ladder can be fitted with a hinge mechanism (see image gallery) that allows it to be stowed vertically. As such, it can be used within a vertical wall opening or on a mezzanine floor.
The damped hinge mechanism allows for safe and easy operation. In addition, it allows the Piccolo Premium Vertical to be positioned behind a door, up to 40mm from the edge of the opening (80mm with special modification).
Please click here for further details.
Piccolo
Where space is particularly tight, the Piccolo is a good option. The Piccolo features the same concertina ladder as the Piccolo Premium, but does not have the counter-balance spring.
Click here for more information.
| | | |
| --- | --- | --- |
| No. of treads | Minimum Opening length (mm) | Clear room height (mm) |
| 9 | 550 | 2000 – 2250 |
| 10 | 620 | 2250 – 2500 |
| 11 | 660 | 2500 – 2750 |
| 12 | 700 | 2750 – 3000 |
| | |
| --- | --- |
| Opening width (from) (mm) | Tread/step width (mm) |
| 370* | 280* |
| 420 | 330 |
* Piccolo Premium loft ladders with 280mm wide tread are made-to-order and subject to a lead-time of 1-2 weeks.
Manufactured to EN 14975 (certified by TÜV SÜD)
Supplied with a manufacturer's 2-year full warranty and 10-year parts warranty
Accessories
The following accessories are only available for order with a Piccolo Premium loft ladder.  Please make sure to add the required accessories to your cart before checkout, or contact us directly to discuss your requirements.
Picollo Premium loft ladder brochure
Aluminium concertina loft ladder brochure
NBS Plus
Technical specification for the Piccolo and Piccolo Premium aluminium retractable loft ladder can be found on NBS Plus.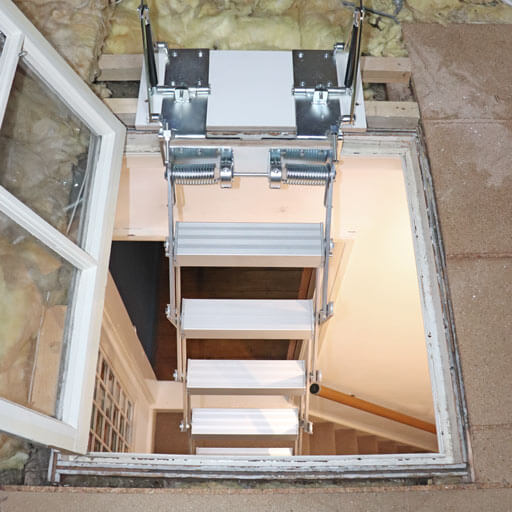 Piccolo Premium Vertical loft ladder offers innovative access via glass loft hatch
The glass loft hatch in this Victorian family home provides a valuable source of natural light. However, it is also the only means of access to the loft. The home owners wanted a loft ladder that maintained the period features, did not block the light and could fit within the existing small opening. Therefore, finding the right loft ladder was very difficult.
A compact loft ladder that could be stowed away from the opening was needed. The Piccolo Premium Vertical loft ladder offered the perfect solution.