What is a 'heavy duty loft ladder'?
Anyone can say they offer a heavy duty loft ladder, but what does it really mean? Well, the first thing to look for is whether or not the ladder was constructed and tested in accordance with EN 14975. This European standard makes sure that the loft ladder can withstand a variety of dynamic and static loads. EN 14975 also defines the loft ladder geometry to ensure the safety of its users.
The next thing to consider when looking for a heavy duty loft ladder is its load rating. Choose something with a higher rating than the EN 14975 minimum of 150 kg, such as our Supreme and Elite retractable ladders. These high performance ladders have a load rating of 200 kg per tread.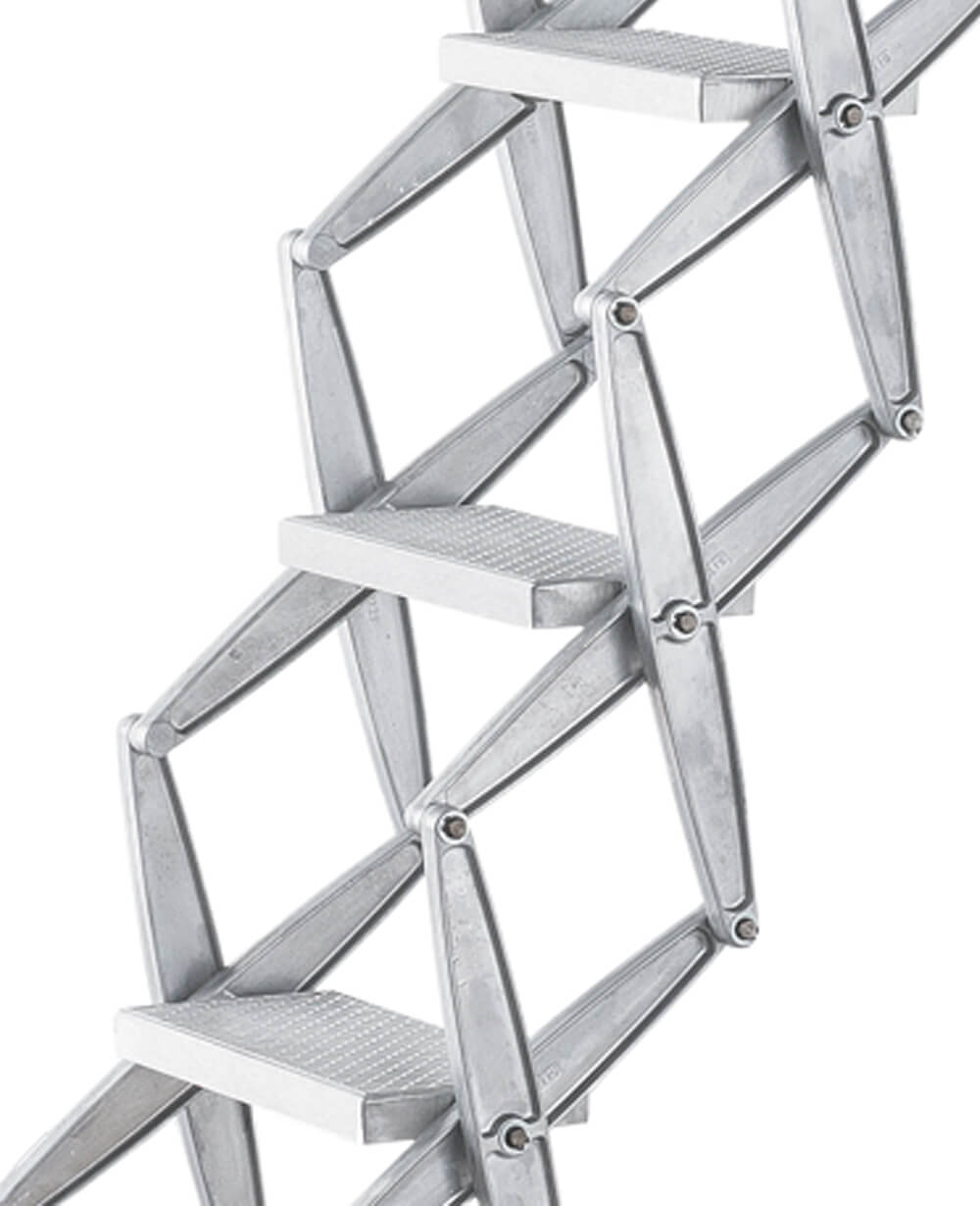 High strength retractable concertina ladder. Load rating of 200kg per tread.
Also check that the loft ladder comes with a warranty. In addition, wide steps are important for safety and comfort. Read our Wide Loft Ladders article for more info and advice on this subject. Finally, choose a ladder that is stable and does not flex during use.
There are several styles of heavy duty retractable loft ladders, including sliding aluminium ladders, folding loft ladders or concertina loft ladders. Each have merits and cater for various budgets. For ease of operation and minimal protrusion into the space above the hatch, we recommend either concertina or folding loft ladders.
Our heavy duty loft ladder product range
The following loft ladders are recommended for their strength, durability and ease of operation.  Furthermore, the Supreme is our most popular product and available with a wide range of options to suit every need.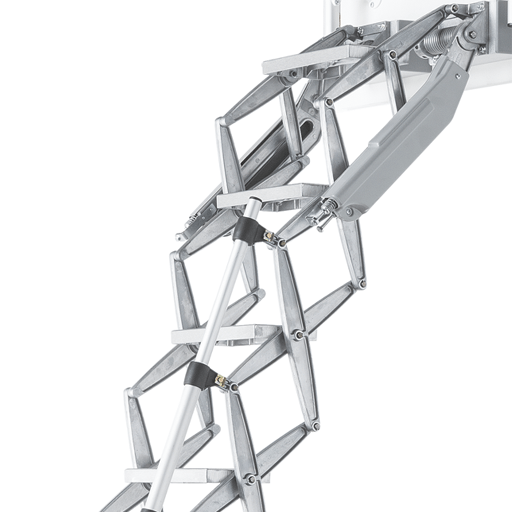 High strength, heavy duty loft ladder, with a load capacity of 200 kg per step
Supplied without a hatch box
Suitable for small ceiling openings, as well as being easy to install and operate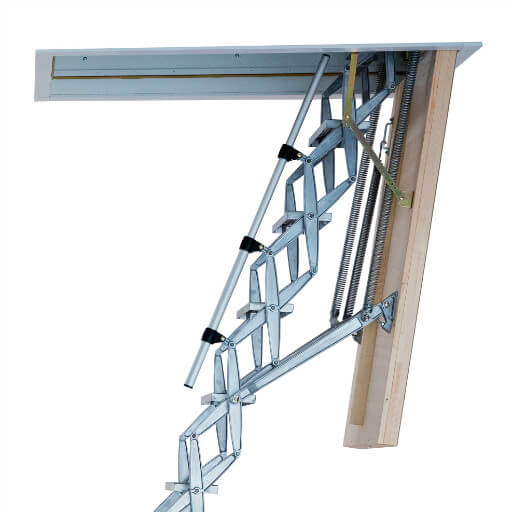 High strength, heavy duty loft ladder, with a load capacity of 200kg per step
Supplied with a highly insulated loft hatch
Also available with a wide range of options
For the most demanding projects…
A heavy duty loft ladder alone may not be enough for the most demanding projects. For example, this could include use in public spaces, where a secure and durable hatch is required. Alternatively, the loft ladder may be required to prevent the spread of fire. In these cases, we recommend a Supreme loft ladder with steel hatch box.
The Supreme with steel hatch box is available with up to 90 minute fire protection. Also, it is made-to-measure and available with a range of options, including a security lock. Furthermore, it is suitable for deep ceiling voids and can be supplied complete with a flat roof access hatch.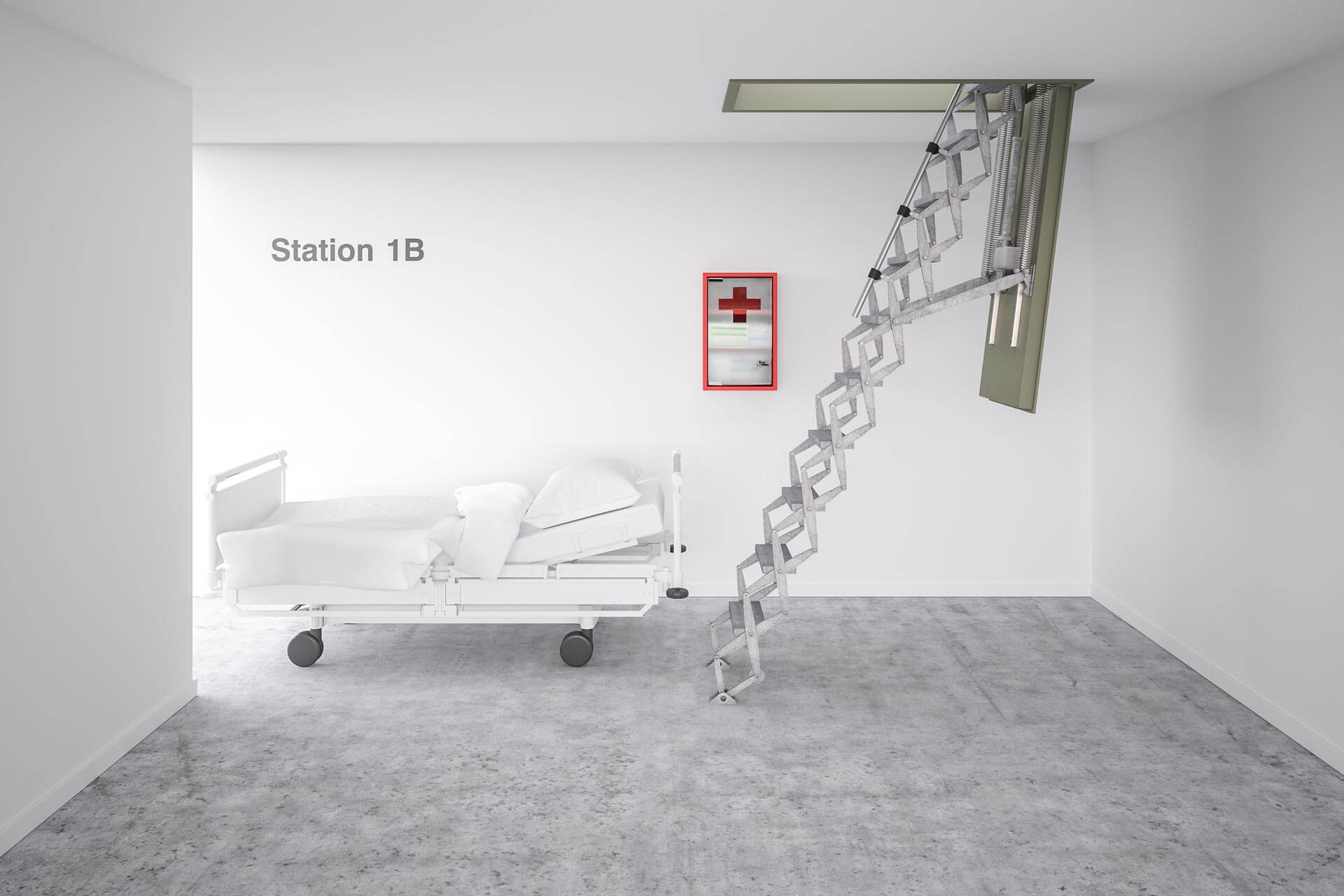 Supreme Electric loft ladder with fire rated steel hatch. Ideal for the most demanding projects, such as hospitals.
Top-operation heavy duty retractable ladders
Top-operation is becoming an increasingly popular request, as it can enable the ladder to be used as a secondary means of escape. However, not all retractable ladders can be adapted for use from above. Please read our guide to top-operation loft ladders for further information.
Industry proven
Premier Loft Ladders have been supplying heavy duty retractable ladders to customers throughout the UK and overseas for over 18 years. Furthermore, our industry proven products for the commercial and industrial markets are manufactured in Germany by Roto Frank Treppen and Austria by Wippro. Both are renowned for their quality, reliability and energy efficiency. As such, our heavy duty loft ladders offer reliable operation for many years after installation. In fact, they come with a 10 year operational warranty.
If you have any questions about our heavy duty loft ladder range, or would like to discuss your project, please get in touch…