Custom loft ladders
We understand that one-size does not fit all, which is why all most all of our loft ladders are made-to-order to fit your exact requirements.
We also appreciate that some applications require a unique loft ladder to fit a very specific set of requirements.
Made-to-measure loft ladder…
Premier Loft Ladders offer our customers a wide range of made-to-measure, custom loft ladders.  As a result, you can be sure you get a loft ladder that fits your exact requirements, which minimises the need for costly and inconvenient ceiling alterations.  This is a particularly important consideration for retrofit and renovation projects.
Our range of made-to-measure loft ladders include all of our aluminium retractable loft ladders and wooden loft ladders (with the exception of the Cadet 3).  It also includes all of our specialist loft ladder products, including electric loft ladders, fire resistant loft ladders and flat roof access ladders.
Click here to download one of our customer specification sheets and then contact us to discuss your requirements.
Customised loft ladders…
Some applications require a highly customised loft ladder to fit a very specific set of requirements. For example, we have developed a custom loft ladder and highly insulated roof hatch solution for a listed building under strict building controls. The flat roof hatch also needed to be clad in lead sheeting. As a result, the upper cover was specially designed with 100 mm of insulation (achieving a U-value of 0.58 W/m2K) and higher strength gas struts that were capable of coping with the weight of the lead cladding (over 30 kg/m2).
Furthermore, our range of loft ladders can be customised with a range of accessories. These accessories offer a variety of benefits, such as enhanced safety features, improved security, aesthetic changes or upper-level operation. For further details about the range of accessories available for our loft ladders and stairways, please visit the individual product pages.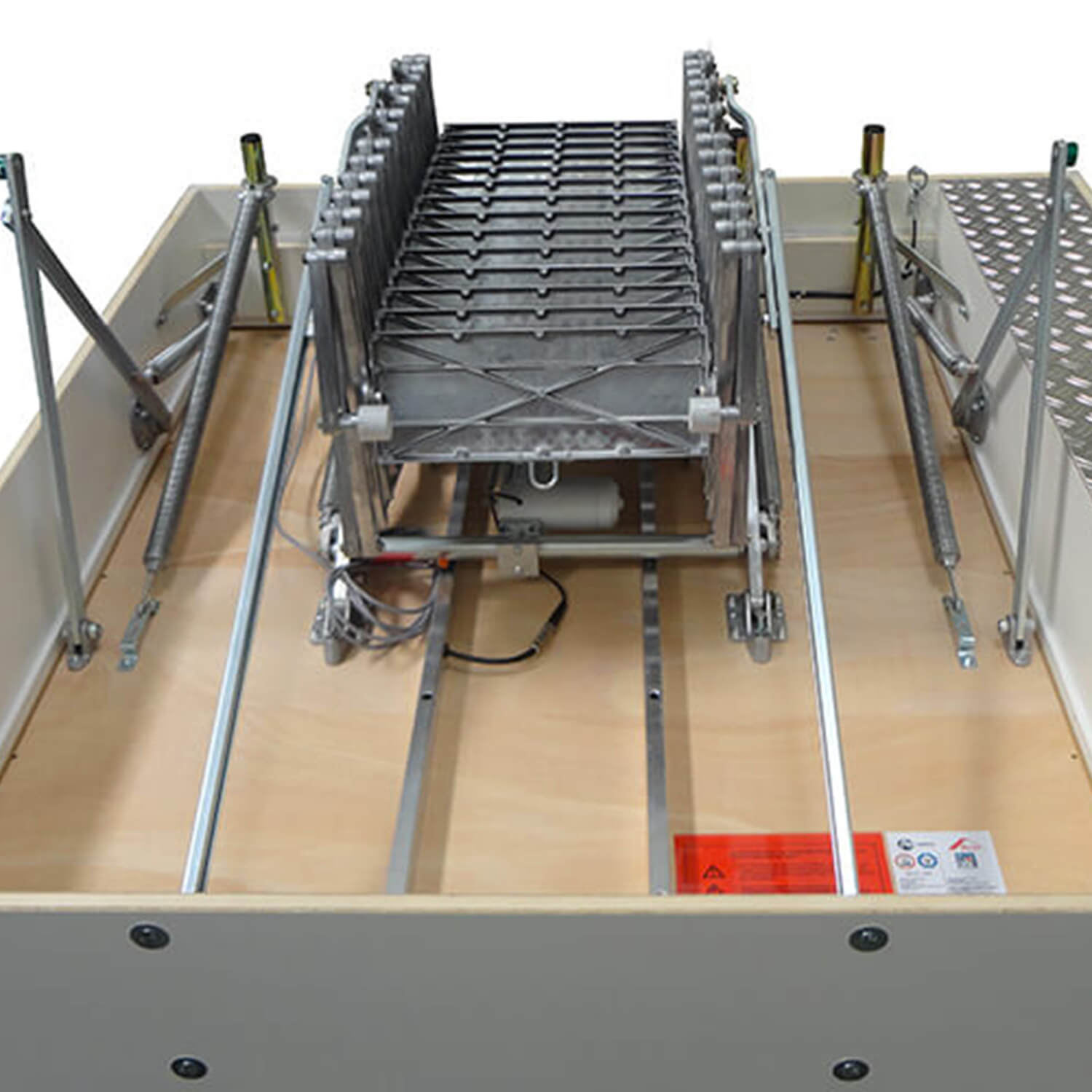 Supreme electric ladder with custom loft hatch and aluminium footplate