Vertical loft ladders for installation on mezzanines or in wall hatches…
Vertical loft ladders are specially modified retractable ladders that stow in a vertical position. They are designed for gaining access into lofts, onto mezzanine floors or even into plant/boiler rooms. They provide an excellent space-saving solution for this challenging application.
When not needed, our vertical loft ladders retract away.  As a result, they can be positioned neatly behind a door or wall hatch, with minimal protrusion into the space behind. A spring-assisted mechanism allows for safe and easy operation when the ladder is needed.
Specifically developed for vertical installation
Supplied assembled to a wooden hatch and insulated door
Ease of operation
High strength, heavy duty ladder, with a load capacity of 200 kg per step
Highly insulated (U value 0.58 W/m2K)
Can be made-to-order to meet your exact specification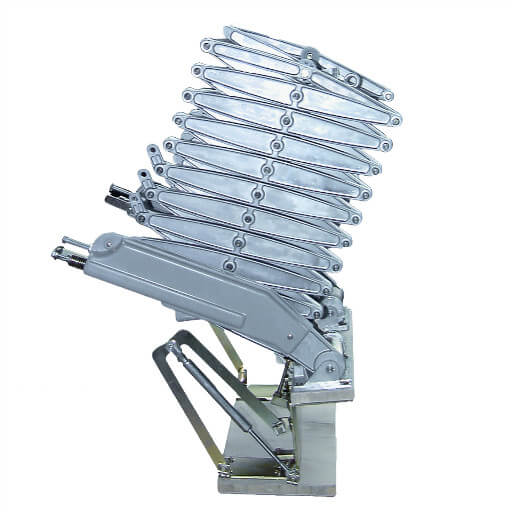 The ideal ladder for a renovation project or replacement of an old loft ladder
Suitable for small ceiling openings
Easy to install
Ease of operation (operation force less than 3 kg)
High strength, heavy duty loft ladder, with a load capacity of 200 kg per step
Large steps/treads for safety and convenience
Retractable vertical loft ladders
Our product range includes the Supreme Vertical loft ladder, which is a heavy duty (200kg load capacity per step) retractable aluminium loft ladder. The Supreme Vertical loft ladder features an insulated hatch box and door to help keep warm air in the building and minimise energy costs. As the door is opened, the spring assisted ladder gently unfolds onto the floor below.
The Elite vertical loft ladder features the same high performance heavy duty loft ladder as the Supreme Vertical, but is supplied without the hatch box. Therefore, it can be conveniently placed behind an existing door, or discretely positioned on a mezzanine floor.
Finally, the Piccolo Premium retractable loft ladder completes our vertical loft ladder offering.  The Piccolo Premium is a lighter-duty version of the Elite, but it's compact design makes it perfect for very narrow openings.
Elite Vertical loft ladders for mezzanine floors and wall hatches. Shown with optional black powder coat finish.
Counter-balanced for safe operation
All of our vertical concertina loft ladders feature a spring counter-balance system. This is particularly important for this type of ladder. This is because it ensures the person using the ladder maintains full control throughout. Also, it stops the ladder falling down under its own weight.
Another important safety feature is the gas-strut dampening hinge. This assists with rotating the ladder to-and-from the stowed position. Again, it reduces the amount of effort needed to use the ladder.
Both of these features can be seen in the video below.
Elite Vertical loft ladder proves to be the perfect solution for a New Build project in France
Jill Ranford and Patrick Taggart are the proud owners of a beautiful new build home in Southern France. The main bedroom features a vaulted ceiling with access to a loft via a wall hatch located 2.7m up from the floor. Therefore a loft ladder was required that could be easily operated at that height and could be folded behind the wall hatch door without taking up too much loft space. The Elite Vertical Loft Ladder proved to be the perfect solution for Jill and Patrick's needs.
"The Elite is now installed in our loft doorway and performs beautifully. It is so unlike cheap loft ladders that I've come across in the past"
Jill Ranford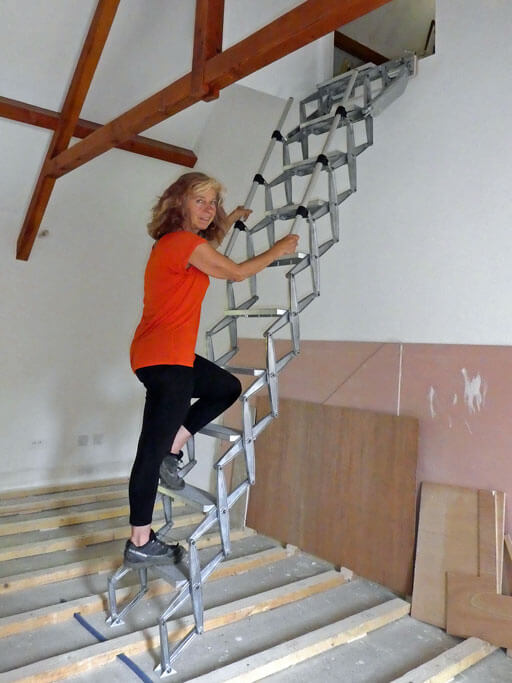 Vertical wall access hatch and ladder
The owners of a modern home had no means of access to the loft space in their property. They needed a loft ladder with a vertical wall access hatch, such that they could make use of this otherwise wasted space. Also, it was important that the ladder was of particularly high-quality and would last a long-time. The Supreme Vertical offered the perfect solution.
"Customers are always delighted and amazed at how a ladder of this size and weight is so light and easy to use."
Steve, Artisan Loft Ladders
Piccolo Premium Vertical loft ladder offers innovative access via glass loft hatch
The glass loft hatch in this Victorian family home provides a valuable source of natural light. However, it is also the only means of access to the loft. The home owners wanted a loft ladder that maintained the period features, did not block the light and could fit within the existing small opening. Therefore, finding the right loft ladder was very difficult.
A compact loft ladder that could be stowed away from the opening was needed. The Piccolo Premium Vertical loft ladder offered the perfect solution.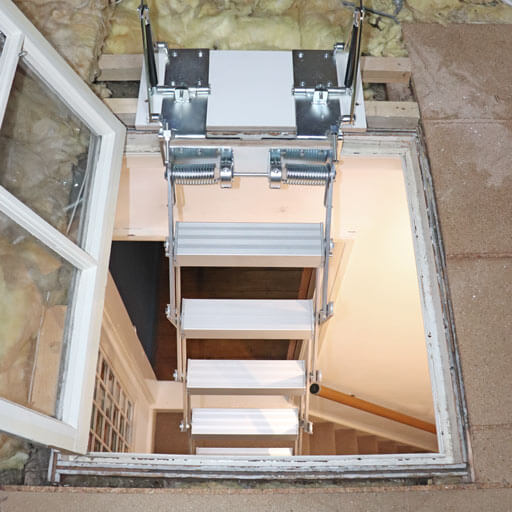 Brochure
An overview of our loft ladder range for vertical wall openings and mezzanine floors.
Vertical loft ladder brochure
HELP
Can we be of help?
If you require help in choosing the right loft ladder, would like to discuss your application, arrange a site visit or request further information, please do not hesitate to contact us…
Telephone No: 0345 9000 195    Email address: sales@premierloftladders.co.uk