Loft Ladders with a Handrail
Loft ladders with a handrail help to offer comfortable and safe access to a loft. As such, the vast majority of our products are supplied with one as standard. This includes our folding (steel and wooden) loft stairs, concertina loft ladders and all of our electric loft ladders.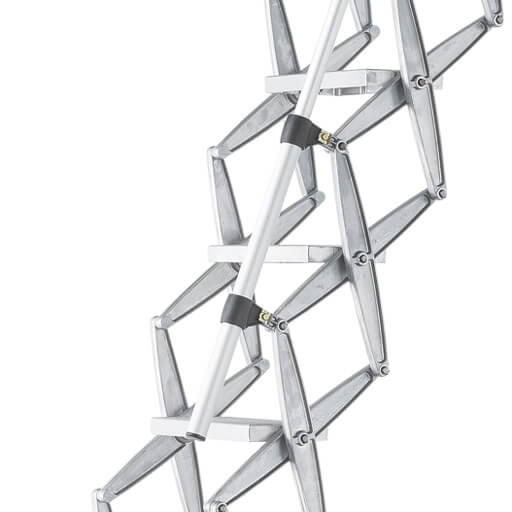 Telescopic loft ladder handrail for use with concertina loft ladders.
Concertina loft ladders with a handrail
A telescopic handrail (pictured here) is supplied with all heavy duty and fire-rated concertina loft ladders. For example the Supreme, Elite and MiniLine product ranges). As such, the rail can extend or contract with the ladder. Furthermore, these products can be fitted with a second one on the opposite side.
Folding loft stairs with handrail
All of our wooden loft ladders are supplied with a handrail. This includes both the wooden folding ladders and sliding ladders. The handrail is attached to the top section of the ladder. As a result of the rail's slimline design, our wooden loft ladders can be supplied with 330 mm wide treads, while also being suitable for narrow openings (starting from just 530 mm wide).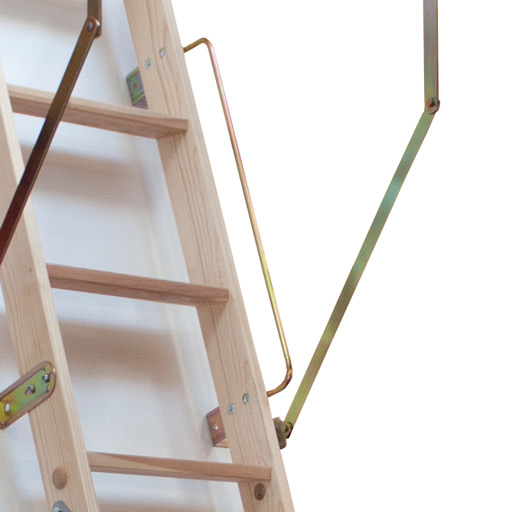 Wooden loft ladder with handrail​.
Similarly, we offer a range of heavy duty folding steel ladders. These also come with a handrail as standard, which extend as the ladder unfolds. In addition, the rail features a clever hidden spring that makes folding and unfolding the ladder much easier (and safer).
As the steel loft ladder product range is fire rated, they can be found within our fire-resistant loft ladders.
Is a Handrail required?
There is no requirement that states all loft ladders must be fitted with a handrail. In fact, in some instances it can present a problem. For example, where there is a small aperture, there might not be enough space for the handrail, or it may impede access up the ladder. Due to this, our most compact loft ladders, the Piccolo, Piccolo Premium and Ecco are supplied without one. Instead, a telescopic handrail is available as an optional accessory where space permits.
BS EN 14975 is the European standard for loft ladders and is used in the UK. As such, it provides guidance on loft ladder features and geometry, including handrails. For further information about EN 14975 please click here to read our recent post, or to obtain a copy of the spec please visit the British Standards Institute (BSI) shop.