Supreme Vertical loft ladder specification available from NBS Plus
Supreme Vertical loft ladder NBS Specification
Premier Loft Ladders has released technical data for the Supreme Vertical loft ladder available within NBS Plus. As such, it is now easier for architects and designers to specify a solution for this otherwise challenging access requirement. The product data can be found within section L30 (clause 41 and clause 421).
The Supreme Vertical offers safe and easy access to loft spaces and plant rooms that can only be accessed via an elevated wall hatch. The heavy-duty concertina loft ladder provides a load rating of over 200 kg per tread. However, it can be opened and closed with minimum effort thanks to a counter-balanced, and damped, spring mechanism.
The insulated hatch box offers a U value of 0.58 W/m2K. As such, it helps to keep in the warmth and lower heating costs. Furthermore, the hatch box is made-to-measure for apertures between 800 to 1490 mm high (subject to floor-to-floor height) by 600 to 1000 mm wide.
Safety is a key design consideration of the Supreme Vertical. Therefore, in addition to the aforementioned light-weight operation, the ladder is fitted with deep treads (140 mm) and a telescopic handrail, as standard.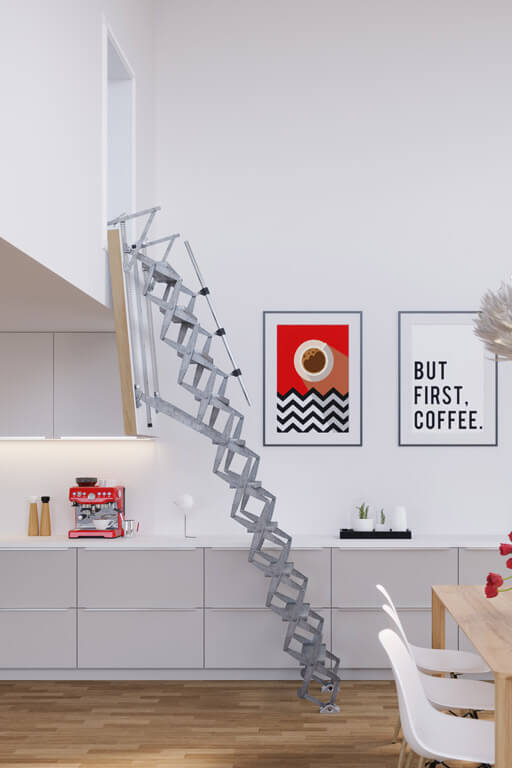 More NBS Plus products from Premier Loft Ladders
In addition to the Supreme Vertical loft ladder, Premier Loft Ladders offer a carefully selected range of loft ladder specifications on NBS Plus. These ladders are suitable for a wide range of different projects and needs. Such as, the popular Supreme and Elite heavy duty loft ladders, as well as the innovative Ecco and Designo. Furthermore, technical details and CAD drawings for our complete range of products can also be found on our 'Technical Data' page.