Compatta Space Saving Stairs
The Compatta space saving staircase…
…modern design and adaptable configuration
KEY FEATURES
Material – structure: Steel
Material – Treads: Solid beech wood
Load capacity: 200kg/m2
Floor-to-floor height: 2.20m to 3.57m
Compatta space saving stairs gets its name from the Italian word for 'compact'. The Compatta features alternating treads, quality materials and an easy to install modular stair system. It can also be adapted for a large range of architectural configurations. It is therefore ideal for loft conversions or mezzanine floors where space is limited.
The space-saving staircase is assembled from a modular steel structure and solid wood treads and handrail. The treads feature a specially designed shape to help reduce the size of the staircase without compromising comfort or safety. Concealed fixings provide a clean and modern appearance.
The basic kit is available with either 10 or 11 steps with balustrade and handrail to one-side. Compatta space saving stairs can be customised to meet your specific requirements through utilisation of a wide range of accessories. The innovative Compatta staircase is supplied as an easy to install kit, complete with an installation manual and video.
Key benefits at a glance
Contemporary styling.
Compact space-saving staircase.
Easy to install modular system.
Can be adapted for a large range of architectural configurations.
Concealed fixings.
Solid beech treads and handrail.
Steel structure for strength, durability and robustness.
Choice of finishes to suit your interior scheme.
Space-saving staircase kit.

Basic kit includes either 10 or 11 steps and handrail down one-side, as standard.
Structure and balustrade manufactured from steel and available in either grey or white powder coat finish.
Tread and handrail manufactured from solid beech wood and available in either natural or Walnut varnish finish.
Adjustable rise – 200mm to 240mm (first rise is always 210mm).
Compatta space saving stairs are sold in kits containing 11 treads, allowing for floor-to-floor heights between 2.20m and 2.85m. Additional treads can be ordered for floor-to-floor heights up to 3.57m, as detailed below.
| | | |
| --- | --- | --- |
| Floor-to-floor height | No. of treads | Additional treads required (supplied separately) |
| 2200 – 2600mm | 10 | 10 tread kit |
| 2410 – 2850mm | 11 | 11 tread kit |
| 2610 – 3090mm | 12 | +1 |
| 2810 – 3330mm | 13 | +2 |
| 3010 – 3570mm | 14 | +3 |
The space saving stairs have a tread width of 550mm and a total width (including the handrail) of 605mm. For full dimensional details, please view our Compatta drawings at the bottom of the page.
Compatta space saving stairs can be constructed to suit a wide range of architectural configurations. Some examples are shown below. Please contact us for help in configuring your staircase and advice on the required accessories.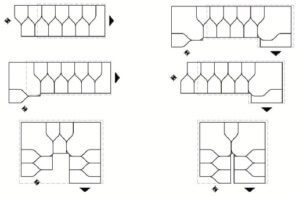 The Compatta alternating tread staircase is suitable for use as secondary staircase, for access to a mezzanine floor or access to a loft conversion with a single room (plus bathroom). It has been designed to be compliant with all relevant standards. However, the adjustable nature of the staircase may allow the installer to complete the installation without adhering to UK building regulations Part K.
A safety-riser kit (sold separately to the standard staircase kit) is required for compliance to the 100mm open riser regulation.
Responsibility for building regulations and health and safety regulations compliance lies solely with the customer and installer.
Compatta space saving stairs brochure
NBS Plus
Technical specification for the Compatta space saving stairs can be found on NBS Plus.
Safe and compact loft conversion stairs for family home
Loft conversions are a popular way to add valuable space to a home. One of the biggest challenges with any loft conversion is where to put the stairs. Also, what type of staircase should you go for? Home owners Bobby and Simon had exactly these concerns when planning the conversion of the loft in their family home in Norfolk.
As a result of there not being enough room for a full-size staircase, space saving stairs were needed. In addition, the loft conversion stairs needed to look good and be safe for use by young children.
"We love the stairs and everyone who sees the extension always comments on how nice they look"
Bobby and Simon