Custom Loft Ladder
Make your loft ladder unique with a powder coat finish of your choice
There is no need to settle for 'standard' when you can have a custom loft ladder. The Supreme and Elite range of loft ladders can be given a powder coat finish to any RAL colour of your choice.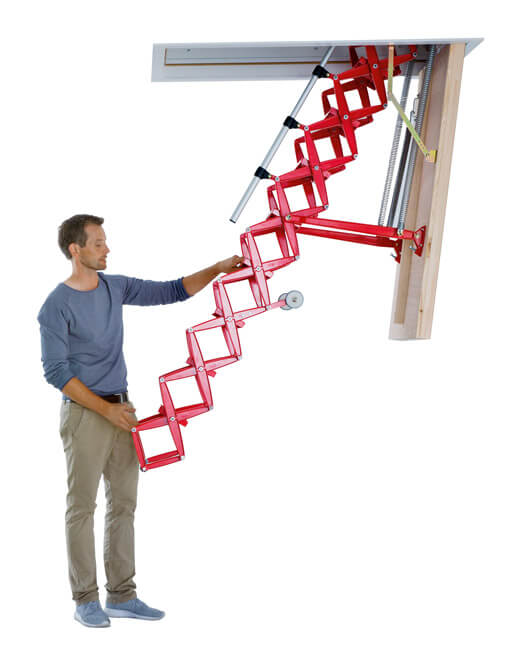 Make a statement…
With a powder coat finish it is possible to turn an ordinary loft ladder into something much more unique. Perhaps it could become a bold statement piece, in a bright, bold colour. We particularly love the red finish (RAL 3028) which is shown here.
Alternatively, you may prefer a colour that blends with the decor of the building. For example, you may wish to match the colour of the custom loft ladder to other features in the property, such as window frames, doors or electrical power sockets. Alternatively, you could match the colour with wall paint. A great example of this is featured in one of our case studies – the Elite was positioned beneath a skylight, therefore the customer wanted a colour that perfectly matched the adjacent walls (click here to read the case study).
Examples of custom loft ladders with powder coat finish…
(Click to expand the images)
What are RAL colours?
The RAL colour coding system was established in Germany in the 1920's and is now commonly used across Europe in industries such as architecture, construction and road safety. There are 213 colours (196 solid colours, 15 pearlescent colours and 2 metallic colours), with each having a unique fourdigit code and name.
Online RAL colour charts are readily available. Apps for Apple and Android devices are also available (Apple RAL iColours and Andriod RAL iColours). However, please be aware that these online charts may not be a true reflection of the actual RAL colour. This is because the colour settings, brightness and contrast on your PC, tablet or mobile phone may deviate from the true RAL colour. Also, the quality of the online chart may not be accurate either.  Therefore, if possible, use an official RAL K7 classic colour fan deck to choose your colour.
For further information and RAL colour chart, visit RAL Colours.
Elite custom loft ladder with RAL 1016 ('Sulphur yellow') powder coat finish.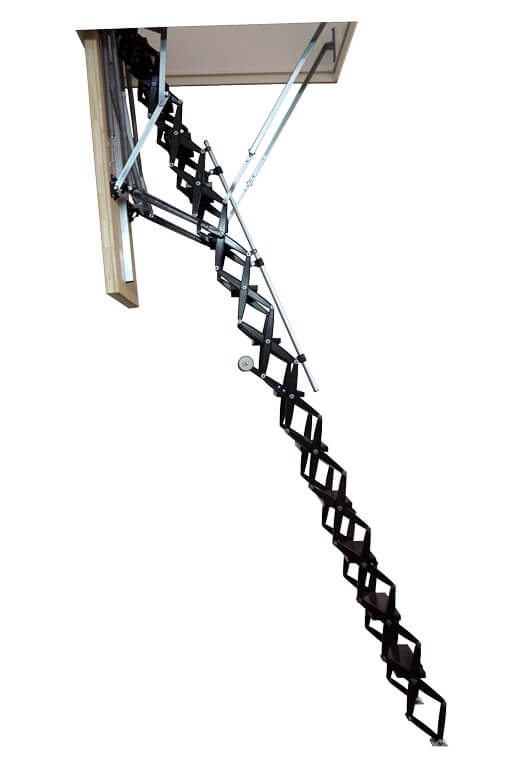 Black powder coated custom loft ladder with electrical operation.
Powder coat finish…
Powder coating is mainly used for the coating of metal components. It offers a hard finish that is tougher than conventional paint. Another benefit is thicker coatings that can be achieved compared with conventional liquid paints (without running or sagging).  In addition, powder coating produces an even finish on all surfaces. The result is a high-quality appearance, that is hard and durable; making it ideal for use on frequently used custom loft ladders.
How to order your custom loft ladder with powder coat finish…
Powder coat finish is available on Elite and Supreme custom loft ladders (including the Supreme Electric and fire rated versions). If ordering online, please add 'Powder Coat Finish' to your order and specify the RAL colour in the order notes. Alternatively, please contact us directly to discuss your project and arrange a quotation.