Choosing a new loft ladder can be difficult. There are many options available. Furthermore, loft ladder reviews based purely on a scoring system can be misleading. For example, what might be a great loft ladder for one person, may be a terrible choice for someone else. It is important to choose a product that best suits your particular needs. As a result, we have based our loft ladder reviews upon real life case studies.
Over the years, Premier Loft Ladders have supported customers with a wide range of projects. Quite often, the challenges faced by one client might be similar to those faced by another. Therefore, with help from our clients, we have created a series of case studies. The case studies provide in depth loft ladder reviews. In addition, they feature feedback, images and videos of the project.
The following extracts are from a few of our recent case studies. We regularly publish new case studies, so please be sure to regularly visit our website, or follow us on social media.
Ecco concertina loft ladder steps up to the challenge
Loft Boarding Scotland and their clients, Ian and Dianne, had a challenging set of requirements. Firstly, they needed a replacement loft ladder that offered safe and easy access to the loft of a period home. Secondly, the new loft ladder needed to be suitable for a high ceiling with only a small loft opening. As such, the compact Ecco loft ladder provided the perfect solution.
"So light, neat and simple to use"
Ian and Dianne
Elite Vertical loft ladder proves to be the perfect solution for a New Build project in France
Jill Ranford and Patrick Taggart are the proud owners of a beautiful new build home in Southern France. The main bedroom features a vaulted ceiling with access to a loft via a wall hatch located 2.7m up from the floor. Therefore a loft ladder was required that could be easily operated at that height and could be folded behind the wall hatch door without taking up too much loft space. The Elite Vertical Loft Ladder proved to be the perfect solution for Jill and Patrick's needs.
"The Elite is now installed in our loft doorway and performs beautifully. It is so unlike cheap loft ladders that I've come across in the past"
Jill Ranford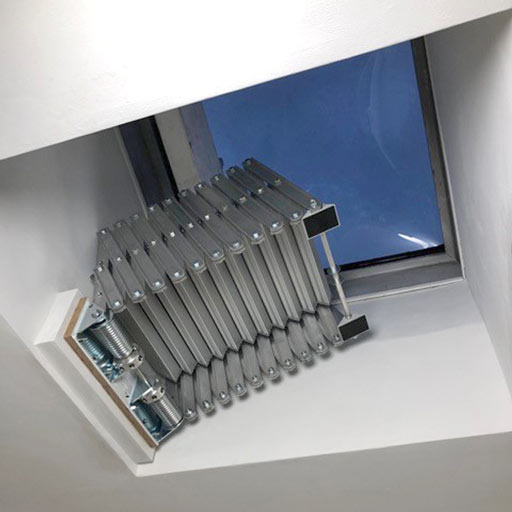 Compact loft ladder for fire escape
Eversley Building Services Ltd required a roof access ladder for emergency use in the event of a fire. However, the application presented many challenges, in particular the small skylight aperture. As such, a compact loft ladder was needed. Furthermore, it needed to be easy and safe to use. The Piccolo Premium ticked all the boxes.
"The install was very straight forward and the client was extremely happy with the product."
Mark Winscott, Eversley Building Services Ltd
Suspended ceiling hatch and loft ladder
Premier Loft Ladders helped Horizon Construction provide a safe and convenient access solution to a 1st floor plant room within a premium car showroom. What made this project particularly challenging was the 1.8m deep ceiling void. In addition, the access point was also in a prominent location outside the showroom offices.
The Supreme loft ladder offered the perfect solution. The heavy duty concertina loft ladder featured a bespoke, deep hatch box. As a result, it provides safe and easy access to the car dealership plant room.
Wooden pull-down loft ladder for a small opening
After over 30 years of regular use, Callan Cessford's pull-down loft ladder was in need of replacement. He needed a new loft ladder that would fit within the existing opening and was easy to use. Furthermore, Callan preferred the loft ladder to be made from wood, like his current one. The made-to-measure Quadro offered the ideal solution for Callan's needs.
"The person who helped me has been a carpenter for over 50 yrs. He was impressed with it."
Callan Cessford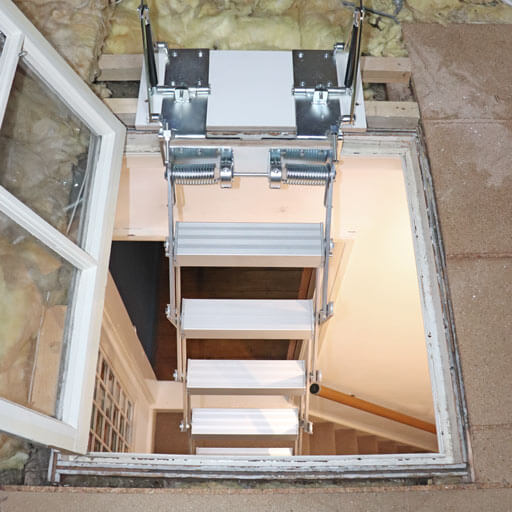 Piccolo Premium Vertical loft ladder offers innovative access via glass loft hatch
The glass loft hatch in this Victorian family home provides a valuable source of natural light. However, it is also the only means of access to the loft. The home owners wanted a loft ladder that maintained the period features, did not block the light and could fit within the existing small opening. Therefore, finding the right loft ladder was very difficult.
A compact loft ladder that could be stowed away from the opening was needed. The Piccolo Premium Vertical loft ladder offered the perfect solution.
If you would like to share your experiences working with Premier Loft Ladders and using our products, we would very much like to hear from you. Please contact us with your loft ladder review, along with a few images or a video. Alternatively, please feel free to write a review on one of our social media channels.
HELP
Can we be of help?
If you require help in choosing the right loft ladder, would like to discuss your application, arrange a site visit or request further information, please do not hesitate to contact us…
Telephone No: 0345 9000 195    Email address: sales@premierloftladders.co.uk