Premier Loft Ladders has recently helped Horizon Construction provide a safe and convenient access solution to a 1st floor plant room within a premium car showroom. What made this project particularly challenging was the 1.8m deep ceiling void. In addition, the access point was also in a prominent location outside the showroom offices.
The challenge…
Horizon Construction have recently carried out a comprehensive refurbishment of a premium car dealership in Southend-on-Sea. As part of the refurbishment, a new means of access was required for the plant room. However, the access point was located outside the offices within the showroom. Because it is a prominent location, in view of customers, the access was completely obscured with ceiling tiles. Therefore, whenever someone needed to get into the plant room, large sections of the ceiling would need to be removed.
Furthermore, with a floor-to-floor height of over 4.2 metres, gaining access to the plant room was particularly difficult and potentially dangerous. As a result, a safe and convenient solution was required for accessing the plant room. It also needed to be as discrete as possible to ensure a quality appearance within the showroom.
The solution…
Following a site survey and a review of the existing access ladder, it was very clear that the Supreme heavy duty loft ladder would be the ideal solution. The Supreme benefits from a high strength aluminium concertina ladder, while also being very easy to operate (requiring less than 3kg of operating force). It also includes a highly insulated hatch, therefore helping to retain warm air in the showroom and preventing a draught of cold air.
The Supreme can be configured for ceiling heights as high as 4.6m, so could have been installed directly into the floor of the plant room. However, this would not resolve the problem associated with showroom ceiling. It would require a secondary suspended ceiling hatch, therefore increasing cost and effort.
Instead, Premier Loft Ladders proposed a specially constructed hatch box that was 1.87m deep. This meant the ladder would be easily accessible at the showroom ceiling height and very easy to access and operate. The deep hatch features large non-slip treads and grab rails on both sides, as shown in the image here. As such, the bespoke Supreme loft ladder provides a safe and seamless transition through the ceiling void to the plant room above.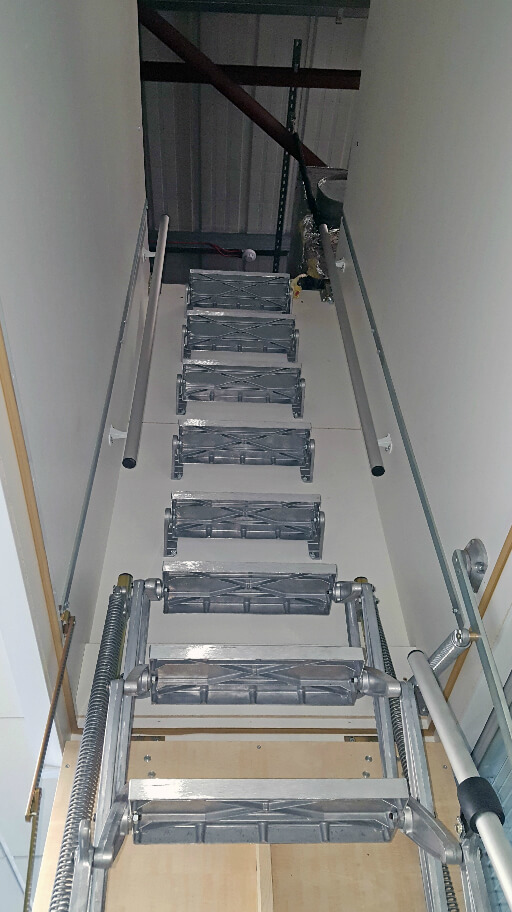 Above: Bespoke loft ladder for suspended ceiling hatch. Featuring 1.87m deep hatch box.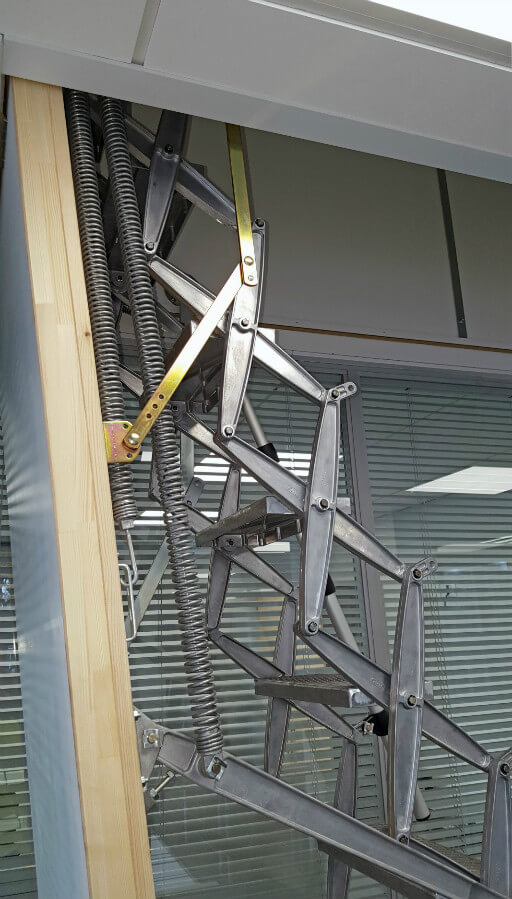 The results…
Details of the proposed solution were provided to Horizon Construction with accompanying technical drawings. The proposal satisfied exactly what they needed and was within budget. Furthermore, within just over two weeks from receipt of the order, the specially constructed Supreme loft ladder arrived on-site. Horizon Construction used a tripod and pulley to lift the unit up into place during installation, then fitted a safety guard rail around the opening of the hatch in the plant room. Ceiling tiles could then be fitted around the suspended ceiling hatch and the finishing touches applied.
Left: Supreme heavy duty loft ladder with suspended ceiling hatch
"Overall the product is very good"
Contracts Manager, Horizon Construction
In conclusion, the Supreme loft ladder from Premier Loft Ladders provides a safe and easy-to-use solution for access to the car dealership plant room. Both Horizon Construction and the dealership owners are pleased with the finished result.
Case study photo gallery
(click on an image to see it full-size)
Suspended ceiling hatch considerations…
Suspended ceilings allow building infrastructure to be hidden from sight. Therefore they are common in many buildings. However, as shown here, they can also present a problem in gaining access to a loft, plant room or flat roof. Quite often, the solution requires the removal of ceiling tiles, or sections of the suspended ceiling. A step ladder may well be used to reach the access hatch. This approach is both time-consuming and can present safety issues.
As such, when designing a new building, or refurbishing an existing one, careful attention should be given to the suspended ceiling hatch and loft ladder. It is important to create a large enough opening to allow easy and safe access through the hatch. Also, choose a robust heavy duty loft ladder, that will last for many years to come. For ease of use, make sure that the hatch and ladder can be opened and closed with minimum of effort. In fact, you may wish to consider an electric loft ladder where easy access is a main priority.
Finally, once you have chosen your suspended ceiling hatch and loft ladder there are a few things to consider during installation. The first thing is that the deep hatch box will mean the loft ladder will be quite large and heavy.  Therefore make sure there is suitable lifting equipment on site. For example, a tripod and pulley are a great way to lift and hold the loft ladder and hatch box in position while it is being secured.