Choosing the best loft ladder
What is the best loft ladder?
The answer to this question is not straight forward. The best loft ladder will depend upon your specific needs. Therefore, a good place to start is by answering the following questions:
How often do I need to access the loft?
What is the loft going to be used for?
Where is the loft ladder located (e.g. bedroom, hallway, garage, etc.?)
Who will be using the loft?
Will it fit?
Is noise a concern?
Here is our guide to choosing the perfect loft ladder for your needs…
Frequent or occasional use
Firstly, lets consider how the loft ladder will be used. For example, if it will be used to access the roof space on a regular basis, it is important to opt for one that is easy to use. Therefore, it should have counter-balance springs to lighten the load and minimise physical effort. Concertina ladders are generally better in this situation, as wooden and metal folding ladders require significantly more effort to fold and unfold the ladder sections. However, if your budget will stretch to it, an electrically operated ladder offers ultimate convenience.
Wear-and-tear will become a concern with more frequent use. As such, the best loft ladder will be one made of metal (aluminium or steel) or a high quality timber. Low cost wooden loft ladders will struggle to pass the test-of-time with frequent use.
What is the loft being used for?
In the majority of cases, the loft is a valuable storage space. If you are just accessing it for Christmas decorations, or perhaps old toys, then a light-duty attic ladder will be all that you need. Ideally, choose a product with a load rating of 150 kg per tread. Most good quality wooden or aluminium loft ladders will be suitable.
However, if you intend to use the loft for storing bulky items, or perhaps have heating/ventilation equipment that may need replacing or maintenance, you may wish to consider a more heavy duty loft ladder. As such, look for loft ladders with a load rating of 180 kg or 200 kg per tread.
Where is the loft ladder located?
The location is a key factor in choosing the best attic ladder. This is because it can impact the space available for it (hence its size), as well as the amount of thermal insulation required.
For example, a loft ladder used to access space above a garage will most probably have little little issue with regard to the available space, and will not need to be insulated. On the other hand, an attic ladder located in a bedroom may have both ceiling and floor-space restrictions. Furthermore, in a bedroom it is very important to choose a loft ladder with high thermal insulation and an airtight seal to stop cold draughts. Detailed information about thermal insulation and air tightness can be found in another of our application guides…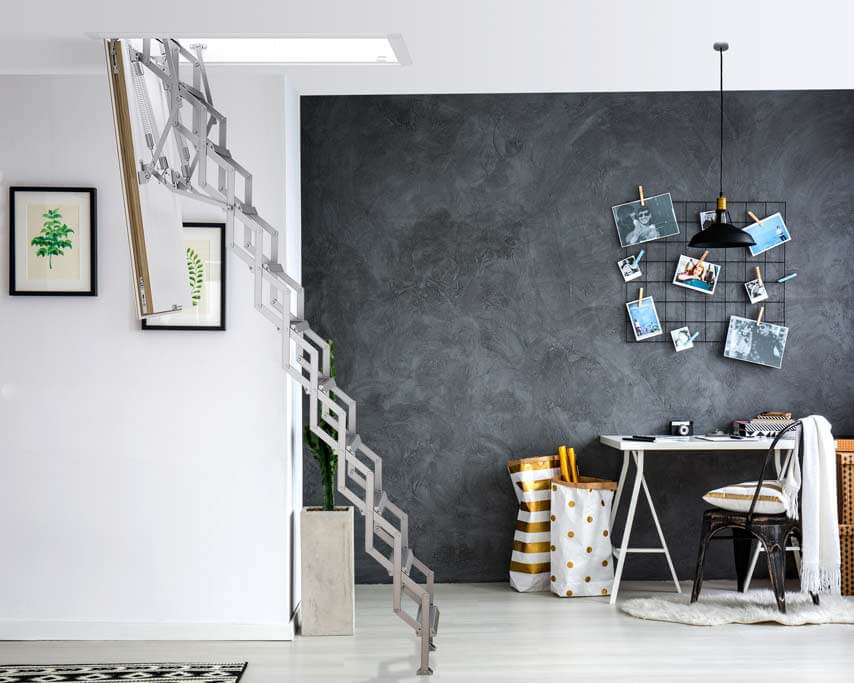 Who will be using the loft?
The best loft ladder for ease of use is one with a high quality counter-balance spring mechanism. For example, the Supreme and Elite range of loft ladders require very little effort to operate. As a result, opening the hatch and extending or closing the ladder is very easy. It also improves safety.
In addition, another safety consideration is inclusion of handrails, as well as choosing a loft ladder with wide and deep treads. For further details read our wide loft ladder guide.
Will it fit?
It is very important to understand the space available for your new loft ladder. The image below shows the key dimensions that you need to measure before ordering one.
Wooden loft ladders typically require a larger opening length, because of the way they fold up onto the hatch door. Although the Quadro wooden loft ladder is available for opening lengths as small as 1 m, this is limited to ceiling heights up to 2.39 m. In most instances wooden attic ladders require a minimum of 1.2 m. In addition, they will often require quite a large area in front to allow them to be extended.
Where space is limited, concertina loft ladders provide a better option. The compact design of these ladders allow them to fit much smaller ceiling openings. For example, the Piccolo will fit openings from as small as 510 mm long by 37 mm wide.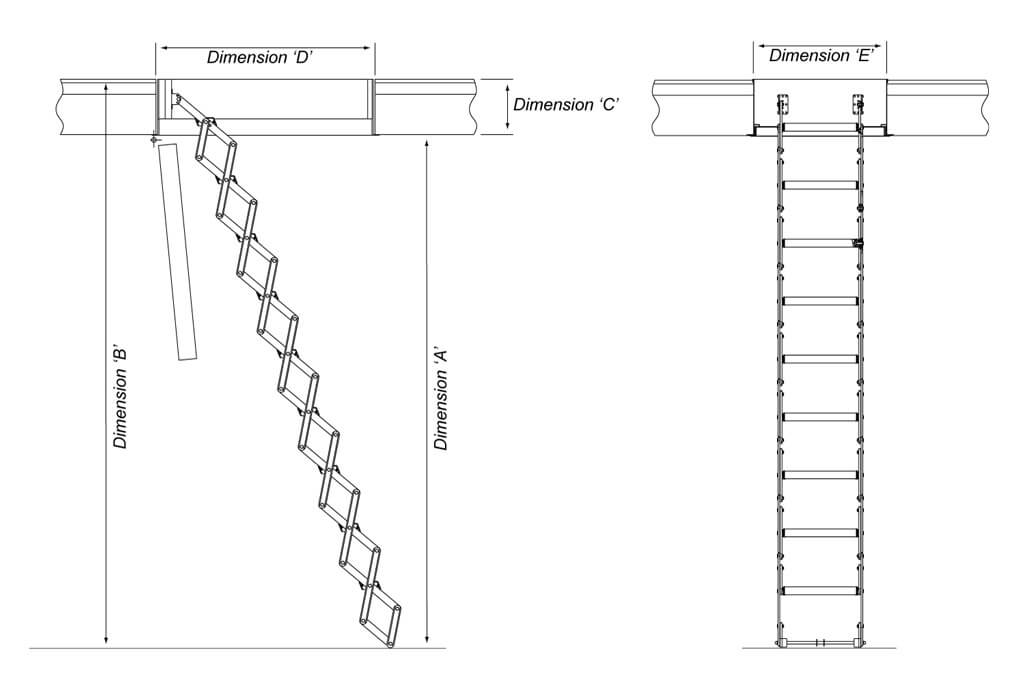 Is noise a concern?
If you need to keep noise to a minimum when using your loft ladder, you should avoid loft ladders made from metal. Instead, wooden loft ladders provide a much quieter option, particularly those with a 3-part folding ladder. In addition, there are a number of other features to look for when choosing a quiet loft ladder to help further reduce rattles, squeaks and bangs. Read our guide to quiet loft ladders for more information.
Please feel free to contact us for help choosing the best loft ladder for your project. We will help guide you through the options available that best suit your needs.