Loft ladders do not come any bolder than this stunning Elite, which was finished in a 'Sulphur Yellow' powder coat. Two identical ladders were ordered by US steel fabrication and installation specialists Alloy Construction Service.
The challenge…
Premier Loft Ladders were approached by Alloy Construction, who requested a quote for two Elite Loft Ladders. Furthermore, they required the ladders to be manufactured to specific dimensions such that they would fit into the steel structure that they were constructing. In addition, the loft ladders needed to be finished in a yellow powder coat. For improved safety and comfort, each Elite also needed to be fitted with two telescopic handrails.
The Solution…
Although sold in standard sizes, the Elite loft ladder can be made-to-measure with different tread widths. As such, meeting the required aperture constraint of 482mm wide by 914mm long was no problem. Also, it is very easy to fit a second telescopic handrail to the Elite, such that there is one on each side.
The powder coat finish is not normally an issue, however, Alloy Construction's first choice was 'Luminous Yellow' (RAL 1026). Unfortunately, this was one of the very few finishes that we were unable to offer. Therefore, we discussed alternative options and a decision was made to go with 'Sulphur Yellow' (RAL 1016).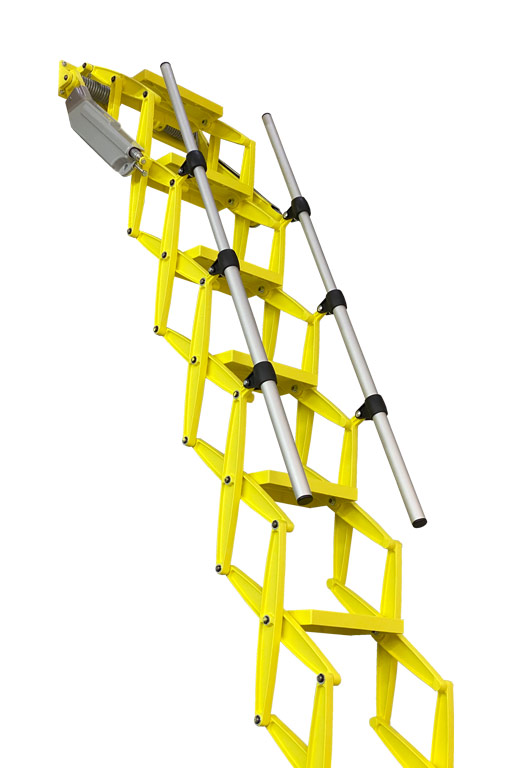 Elite heavy duty concertina loft ladder with 'Sulphur Yellow' (RAL 1016) power coat finish​.
Elite concertina loft ladder in stowed position.
The results…
The two loft ladders for Alloy Construction feature bold steps finished in a durable powder coat. They also benefit from the added comfort and safety offered by telescopic handrails fitted to each side, as well as the 140mm deep treads (a standard feature of the Elite). In addition, the Elite retractable loft ladder provides heavy duty performance, but with lightweight operation. This is due to the sophisticated counter-balance system.
In summary, the result is a safe and easy solution for access to lofts, plant rooms or mezzanine floors.
Case study photo gallery
(click on an image to see it full-size)
Other concertina loft ladders
In addition to the Elite, Premier loft ladders offer a range of concertina loft ladders to suit a wide variety of projects. Therefore, please explore the rest of our product range or contact us to discuss your project.