Taking the right steps to combat fire
Why choose a fire rated loft hatch and ladder?
A fire rated loft hatch and ladder provides safe and convenient access into a loft, plant room or onto a roof. Most importantly, it provides fire resistance when closed. The hatch can also provide high levels of thermal insulation and therefore help to keep energy costs down.
Fire rated products from Premier Loft Ladders
Our product range includes fire rated retractable aluminium and folding wooden loft ladders. These lead the field in design, technology, energy efficiency and quality. Furthermore, they are built to EN 14975 and fire resistant to EN 1363-1, EN 1634-1 and ÖNORM B 3860.
In addition, we have been expanding our range of metal-folding loft ladders. These include the Isotec, which is rated to 120 minutes. Also, the Passivhaus certified Klimatec provides 30 minutes fire rating.
Commercial & industrial projects
Heavy duty fire rated loft hatch and ladders are available for commercial and industrial projects. However, it is important to ensure that the loft ladder has been built and tested in accordance with EN 14975. As a result, you can be certain it can support a minimum load of 150 kg per tread/step. When choosing a loft ladder for commercial projects, we recommend that is tested to at least 200 kg per tread. Also, opt for a wide ceiling opening to maximise tread width and depth. As such, safety and comfort will be improved for those using the loft ladder.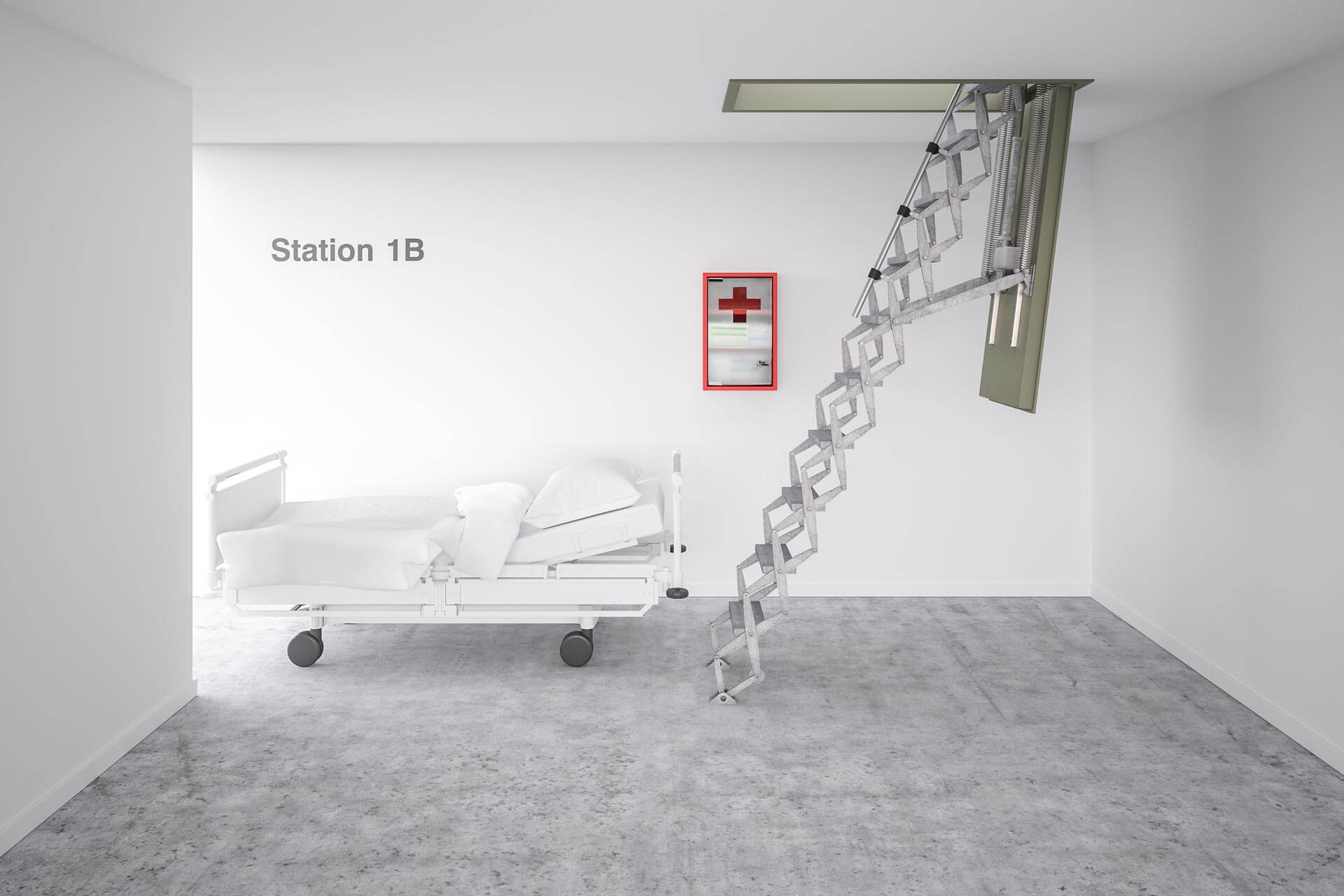 The Supreme Electric loft ladder with steel fire rated hatch is ideal for demanding projects such as hospitals.
Aluminium, wooden or steel ladder?
The choice between an aluminium, wooden or steel fire rated loft ladder is largely based upon preference. However, concertina loft ladders are available to fit smaller hatch box sizes. This makes them best suited for projects where space is limited or for retrofit in an older building. Also, retractable ladders, such as the Supreme F30 and F60/F90 with steel hatch box, can be used for heights up to 4.6m. Whereas, wooden and steel folding loft ladders require much longer apertures and are typically limited to floor-to-ceiling heights up to 3.5m. 
Other considerations:
Security
Where security is a concern, make sure to choose a loft ladder that can be fitted with a lock. Also, ensure that the hatch is strong and durable. Therefore, a fire rated steel hatch may be the best option.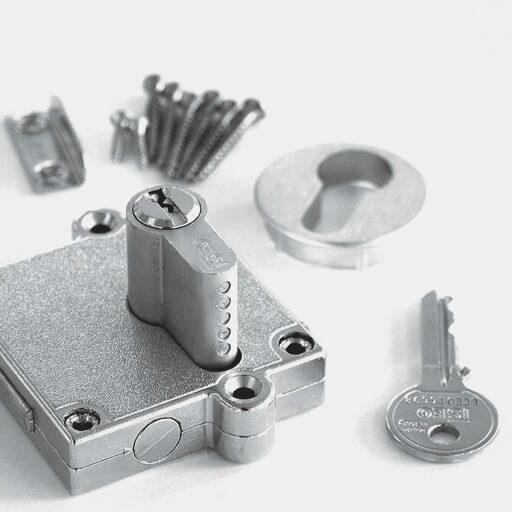 Thermal insulation
As mentioned before, thermal insulation can help to keep in the warmth and lower energy use. We recommend choosing a fire rated loft hatch and ladder that offers a high level of thermal insulation. For example, you should really be looking for a product offering a U-value of less than 1 W/m2K. Read our guide to insulated loft ladders for more details.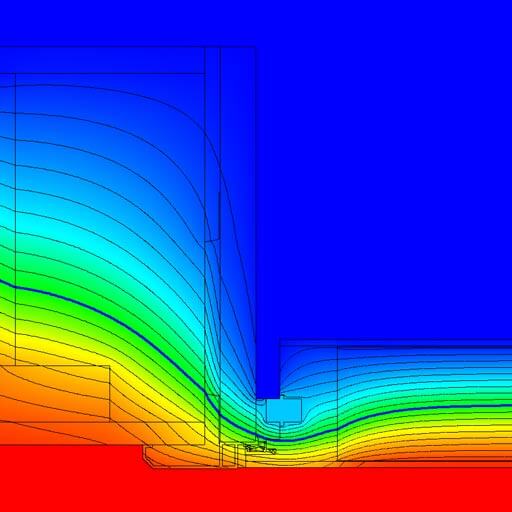 Operation from above
Another consideration is whether the fire resistant loft hatch and ladder need to be opened and extended from above. Quite often a loft ladder is used as a secondary means of escape from a plant room or roof. As such, it needs to be operable from above. Therefore, a manual concertina ladder (such as the Supreme range modified with top-operation) or fully automatic electric ladder would be best suited.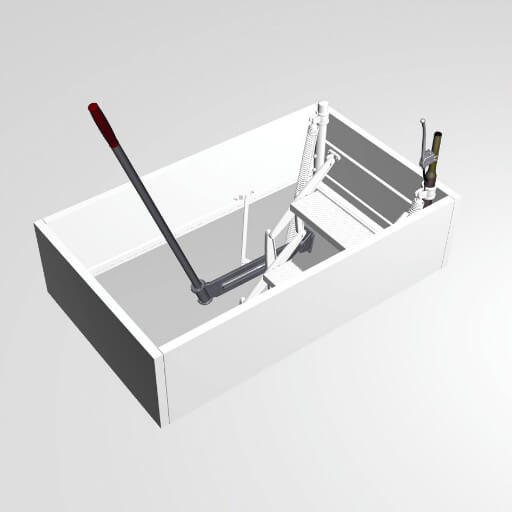 Made-to-measure fire rated loft hatch and ladder
Finally, when choosing a fire rated loft hatch and ladder you may wish to consider whether you need a made-to-measure solution. Fire rated loft ladders can come in standard sizes. As a result, they may benefit from a shorter lead time. However, choose a made-to-measure fire rated loft hatch with ladder if your ceiling structure cannot be altered. Consequently, it may be slightly more expensive and you may have to wait a couple of weeks, but it should save time and cost on-site.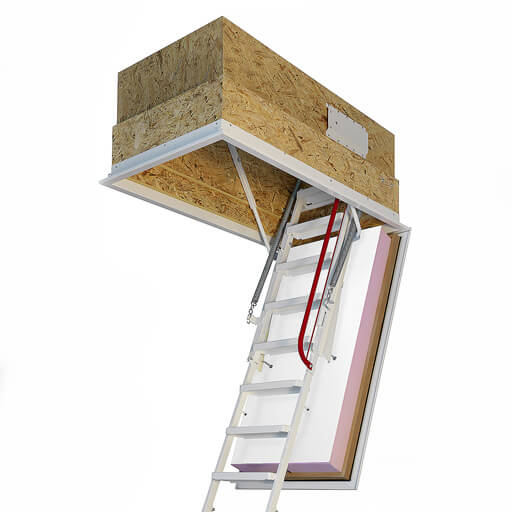 The Klimatec 160 is perfect for passive house projects.
Fire protection with Passivhaus certification
There is a growing trend to make buildings more energy efficient. As a result, more homes and commercial buildings are being built to passive standards. However, safety and protection from fire also remain a concern. Therefore new products have been introduced to help fill this need. The Klimatec 160 is certified by the Passivhaus Institute and also benefits from 30 minutes (EI230) fire rating.
Installing a fire rated loft hatch and ladder
Fire rated loft ladders should be installed following the manufacturer's guidelines. The process will normally be the same as any other loft ladder. However, after installing it is essential to fill the gap between the hatch box and the structural opening with a fire resistant mortar. We recommend using a mortar that meets class 3 DIN 18580. Alternatively, you could also use mortars tested to EN 1366-3 and BS 476 part 4 and 20. Furthermore, we advise that the mortar is filled to a minimum depth of 180 mm within the gap.
Please get in touch if you have any questions about our fire rated loft hatch and ladder product range, or would like to discuss your project…