The Ecco retractable loft ladder is the ideal solution for small ceiling openings…
The Ecco retractable loft ladder is specially designed for small ceiling openings. As such, it features a space-saving ladder and wooden hatch box.
Manufactured from light-weight, durable aluminium components, the Ecco is easy to operate. Furthermore, it is tested to EN 14975 and can support loads of 150 kg per step. Also, the Ecco can be supplied with a telescopic handrail.
Benefits of the Ecco retractable loft ladder…
Space-saving loft ladder suitable for a small ceiling opening
Lightweight and durable aluminium ladder
Easy to operate
Load capacity of 150 kg per step
Hatch box trap door finished in white on both sides
Minimal protrusion into loft space
Insulated loft hatch, therefore helping to reduce energy costs
Standard sizes or made-to-measure…
The Ecco is available to buy from our web site in a range of standard sizes. Opening lengths come in either 1100mm or 1200mm. While opening widths come in 600mm or 700mm. The standard sizes also cater for floor-to-ceiling heights between 2250mm and 2750mm.  As a result, the standard range of Ecco loft ladders suit most applications.
However, the Ecco retractable loft ladder can also be made-to-measure. As a result, you get a loft ladder to fit the exact dimensions of your ceiling opening and room height. This has the benefit of an optimum fit for easier installation and can avoid the need for costly ceiling alterations.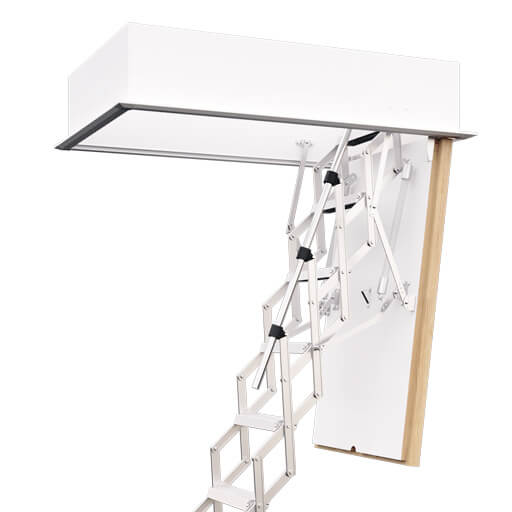 Fire rated
The MiniLine offers the ideal alternative where fire protection is needed. It features the same aluminium ladder, as well as a compact wooden hatch.  However, the MiniLine has the added benefit of either 30 or 60 minute fire protection.
Alternative retractable loft ladders from Premier Loft Ladders…
We have a wide range of retractable loft ladders to choose from. Therefore, if the Ecco is not what you are looking for then why not explore some of our other products.
For example, the Piccolo Premium loft ladder features the same space-saving, lightweight and durable ladder mechanism as the Ecco. However, it is supplied without a hatch. The easy to install Piccolo Premium is therefore ideal for retrofit.
Alternatively, the heavy duty Supreme (pictured here) offers superb strength and durability. As such, it has a load rating of 200kg per tread. It also benefits from a highly insulated loft hatch with spring-assisted operation, requiring less than 3kg of operating force.
…or contact us to discuss your requirements.