Premier Loft Ladders – 15 years and still taking new steps…
Premier Loft Ladders are celebrating their 15th year of supplying architects, designers, building contractors and home owners with the highest quality loft ladders. However, not wanting to rest on their laurels, 2018 marks an exciting year of continued innovation and new products. Premier Loft Ladders continue taking new steps…
So far this year Premier Loft Ladders have already released 4 exciting new products:
First was the innovative Ecco concertina loft ladder, which is the perfect solution where space is limited. This compact aluminium loft ladder fits into ceiling openings as small as 800mm x 550mm. Also, it features a highly insulated loft hatch with multi-point latching system, giving an airtight seal.
Next to join the Ecco was the ADJ Wall loft ladder. Designed for use in vertical wall openings, this tough concertina ladder is easy to use and available in a wide range of standard sizes.
Finally, the Klimatec 160 passivhaus and Isotec loft ladders have recently been added to the Premier Loft Ladders portfolio. Both feature high strength steel ladders. In addition, they offer superb thermal insulation. It is therefore of no surprise that the Klimatec 160 is certified for use in passive buildings. Also, both have the benefit of fire resistant hatch boxes (the Isotec offering up to 120 minutes protection) and a very high load rating of 250kg per step.
The Ecco from Premier Loft Ladders. Space saving concertina loft ladder with insulated hatch.
During the rest of the year you can look forward to seeing more fire rated loft ladders. Also, Premier Loft Ladders plan to offer a compact spiral staircase to accompany the popular Compatta space saving loft stairs. Furthermore, there will be an expanded range of loft hatches.
Quality, safety and innovation…
Quality, safety and innovation are core to the products and service offered by Premier Loft Ladders. As such, Premier Loft Ladders offer carefully selected products from only the best manufacturers. These products are chosen for their high quality components and innovative design. The result is a range of products that offer the highest levels of safety and long-term performance.
The Designo loft ladder is a perfect example. This wooden loft ladder balances traditional styling and materials with innovative new technology. Notable features include a multi-point latching system, concealed hinges and a patented insulating & sealing tape around the outside of the hatch box. The result is a loft ladder that not only looks great (open and closed), but achieves an airtight seal and very high levels of insulation. Also, the Designo is available with Passivhaus certification.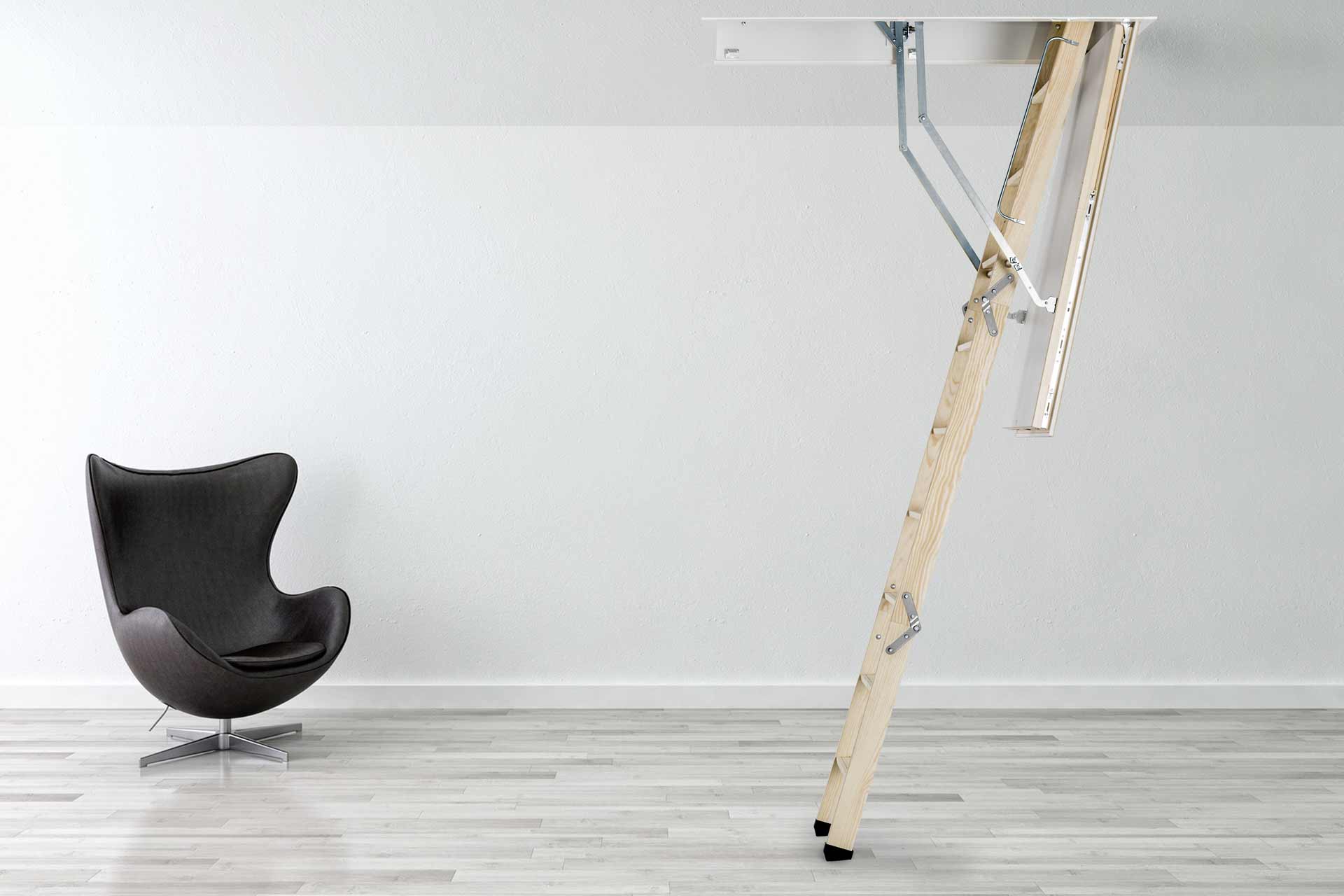 Passivhaus certified loft ladders from Premier Loft Ladders include the innovative Designo.