Guide to space saving loft stairs
Converting your home's loft is a useful way to add an additional bedroom or a quiet place to relax. It can also add value to your property. There are many factors to consider when planning your loft conversion, including how you will access it. This guide provides helpful advice and tips for choosing loft stairs.
What are space saver loft stairs?
One of the most popular stairs for a loft are 'space saver loft stairs'. These staircases are designed to optimise the available space. They do this through the use of alternating treads, which provide a deep step/tread for comfort and safety. They also allow for a steeper staircase pitch. As a result, space saving loft stairs are particularly suited to smaller properties or situations where space is at a premium. However, it is important to note that in England and Wales the building regulations state that they can only be used when there is insufficient space for a conventional staircase and for access to only one habitable room (plus bathroom/WC).
Will they fit in my home?
Space saving loft stairs will fit in most homes because of their clever design. They are typically available to suit a range of different floor-to-floor heights. Modular space saver loft stairs offer the greatest flexibility. Configurations/layouts can be adapted through the use of space saving platforms and additional steps (pictured here). Made-to-measure, bespoke attic stairs are also available. However, these can be more expensive and do not offer the same flexibility should you wish to change your staircase configuration at a later date.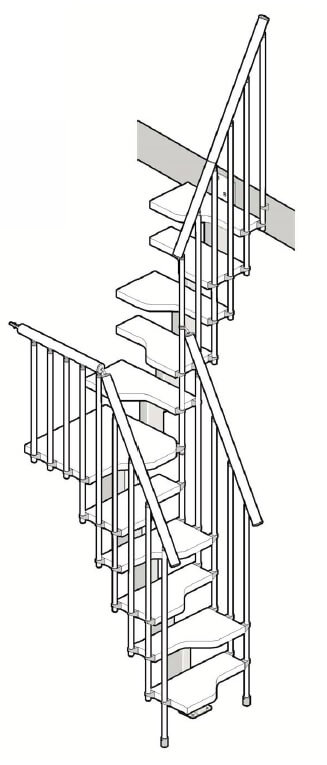 Compatta space saver loft stairs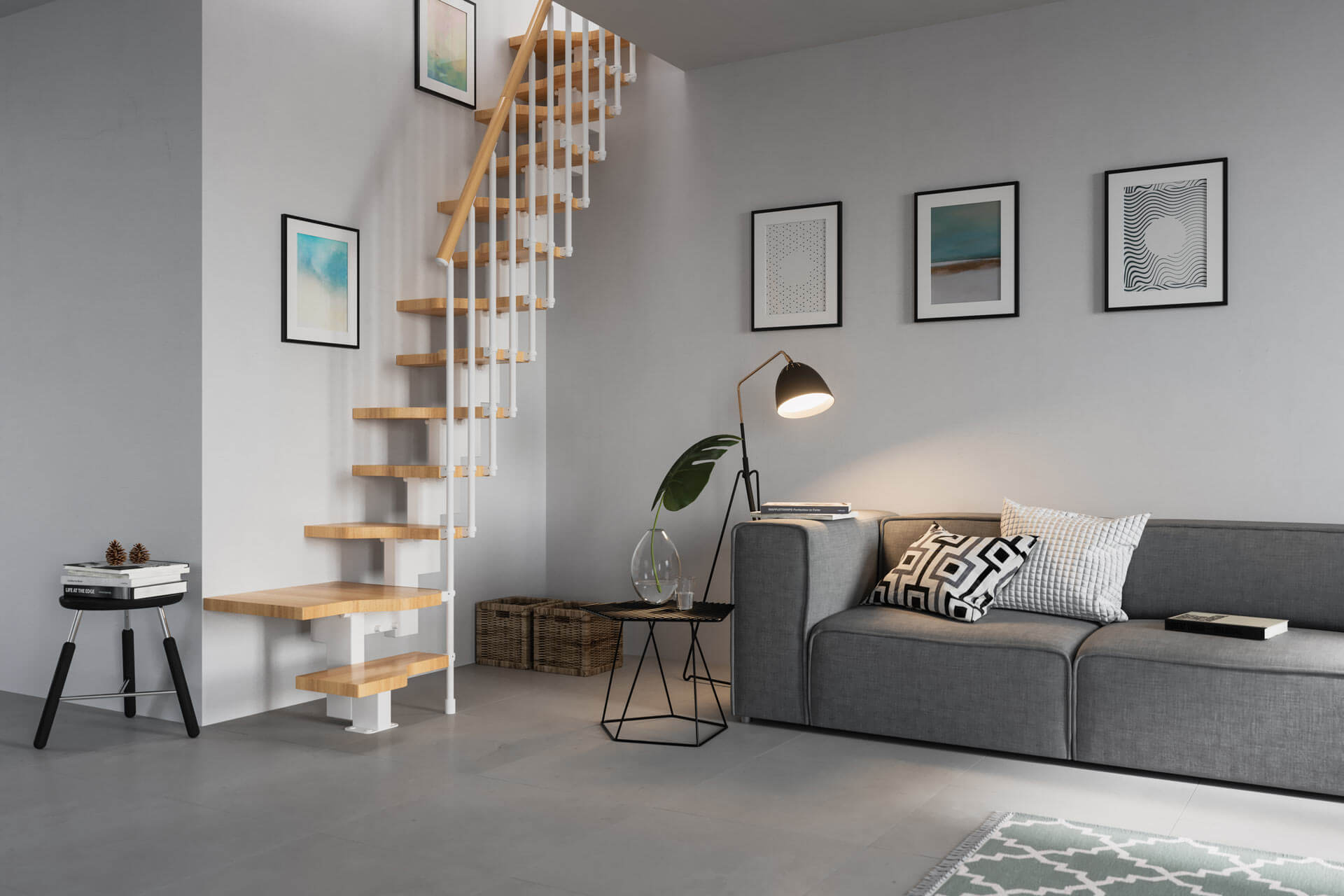 Compatta space saving stairs for a loft or mezzanine.
Can I install loft stairs myself?
This is dependent on your DIY skills and the staircase that you choose. Modular space saver loft stairs usually come supplied as a kit. A good kit should include easy-to-follow instructions and maybe even a video, such as our Compatta staircase. It should also require the use of only basic tools, therefore making it possible for the homeowner to install themselves. If in any doubt, call upon the services of a professional carpenter or loft conversion specialist. Also, when installing stairs for a loft conversion you need to make sure they conform to the applicable building regulations.
The Compatta space saving staircase
The Compatta is a great choice for loft conversions or mezzanine floors where space is limited. It features solid beech steps and handrail, a clean modern design with concealed fixings. In addition, it is supplied as an easy to install kit, complete with an installation manual and video.
The Compatta is suitable for a wide range of space saving configurations and floor-floor heights. This is due to an adjustable tread rise and run, as well as a wide range of accessories.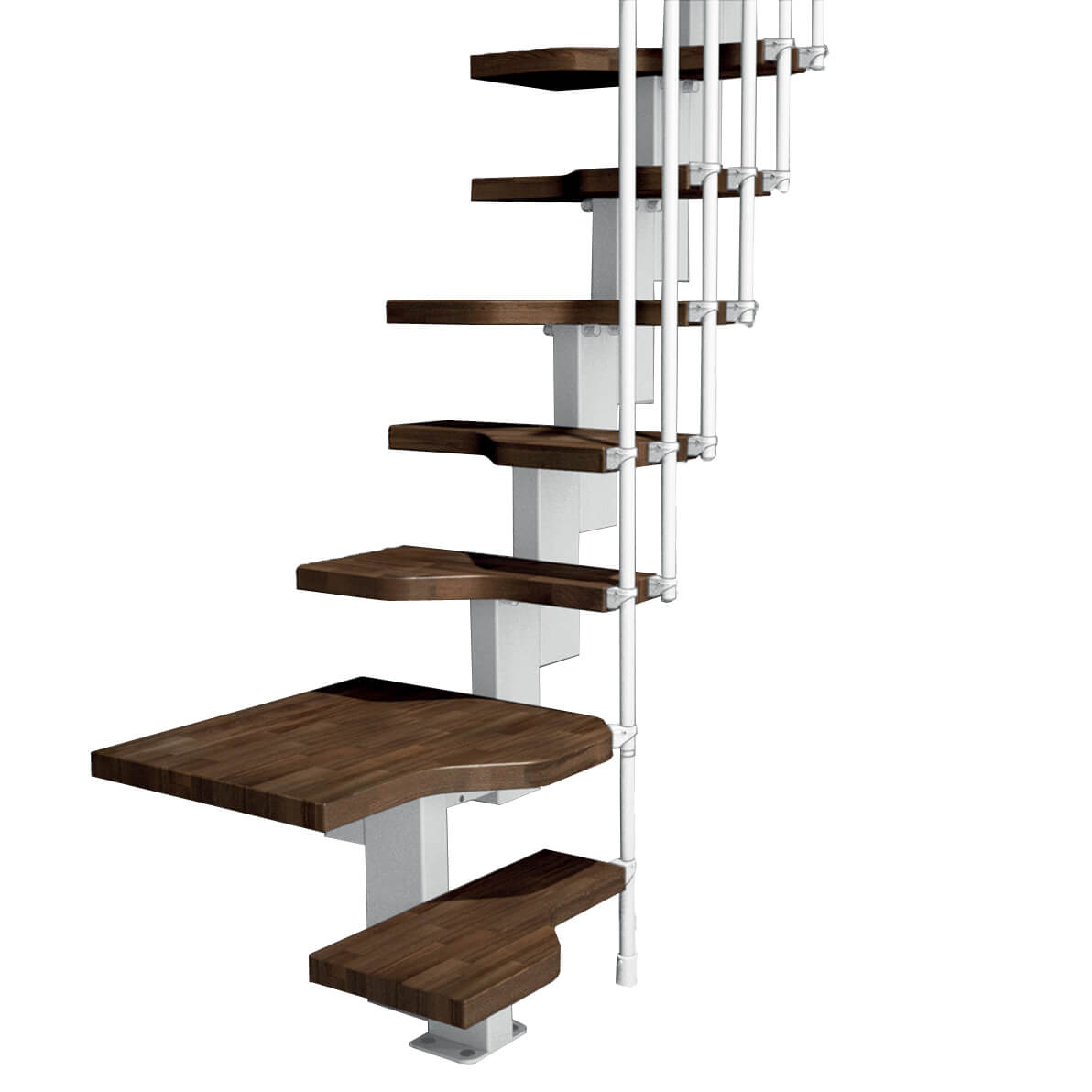 Compatta space saving loft stairs in white powder coat steel with 'Walnut' finish solid wood treads