The Composity modular staircase…
…innovative contemporary design
Prices start from £2,250 (excl. VAT)
KEY FEATURES
Material – structure: Steel
Material – Treads: Solid beech wood
Load capacity: 200kg/m2
Bespoke configuration
The Composity is a brand new modular staircase that can be specified for a wide range of architectural configurations.  The expanding range of finishes and complementary accessories makes the Composity fully customisable.  It benefits from a stunning contemporary design, with concealed fixtures and fittings, making it a great feature for both new and old buildings alike.
From the outset, the Composity has been designed for ease of installation.  It can be installed in only one working day by a single person, therefore helping to lower costs.  Furthermore, simple and intuitive assembly instructions and video accompany each staircase.  Steps can also be easily cut/trimmed during installation to fit different flight widths or uneven walls.
Designed and manufactured by Italian staircase specialist Rintal S.p.A., huge attention has been given to every detail.  This includes the use of high quality materials, such as an epoxy powder-coated steel structure and solid wood steps.  The result is a bespoke staircase that offers superb aesthetic appeal, a strong & robust structure, versatile modular construction and easy installation.
Contact us today to discuss your project and configure your bespoke staircase.
Composity modular staircase benefits at a glance
Contemporary design.
Concealed fixtures and fittings.
Can be specified for a wide range of architectural configurations.
Quick and easy to install modular system.
Free UK mainland delivery within 3-4 weeks of order.
High quality solid beech steps.
Steel structure for strength, durability and robustness.
Choice of finishes to suit your interior scheme.
Each Composity staircase is prepared to your exact requirements.
Available to suit 'I', 'L', 'U' or 'C' staircase configurations.
Structure manufactured from steel.

Available in either grey or white epoxy powder coat finish.
Steps and handrail manufactured from high quality solid beech wood.

Available in either 'natural' or 'walnut' varnish finish.
Choice of railing and balusters.
Standard step widths of 740mm, 840mm or 940mm
Adjustable rise – 175mm to 220mm.
Adjustable run – 230mm or 250mm.
Staircase dimensions to suite your architectural requirements
Please contact us to discuss your requirements.  We will guide you through the dimensions we need from you and the options available.  We will then provide a staircase specification and quotation for your review.  Once you have found your perfect bespoke staircase specification, we will configure the staircase kit and deliver it to you within 4 to 5 weeks.
Composity modular staircase finish options
The Composity open tread modular staircase is available in a range of finishes to suit your specific needs. These include either white or grey finish to the metal structure, combined with a choice of wood finishes.
The Composity bespoke staircase has been designed to be compliant with all relevant standards.  However, the adjustable nature of the staircase may allow the installer to complete the installation without adhering to UK building regulations Part K.
A safety-riser kit (sold separately to the standard staircase kit) is required for compliance to the 100mm open riser regulation (see below).
A staircase specification and configuration document will be provided for architect/customer approval before the staircase is ordered. Responsibility for building regulations and health and safety regulations compliance lies solely with the customer and installer.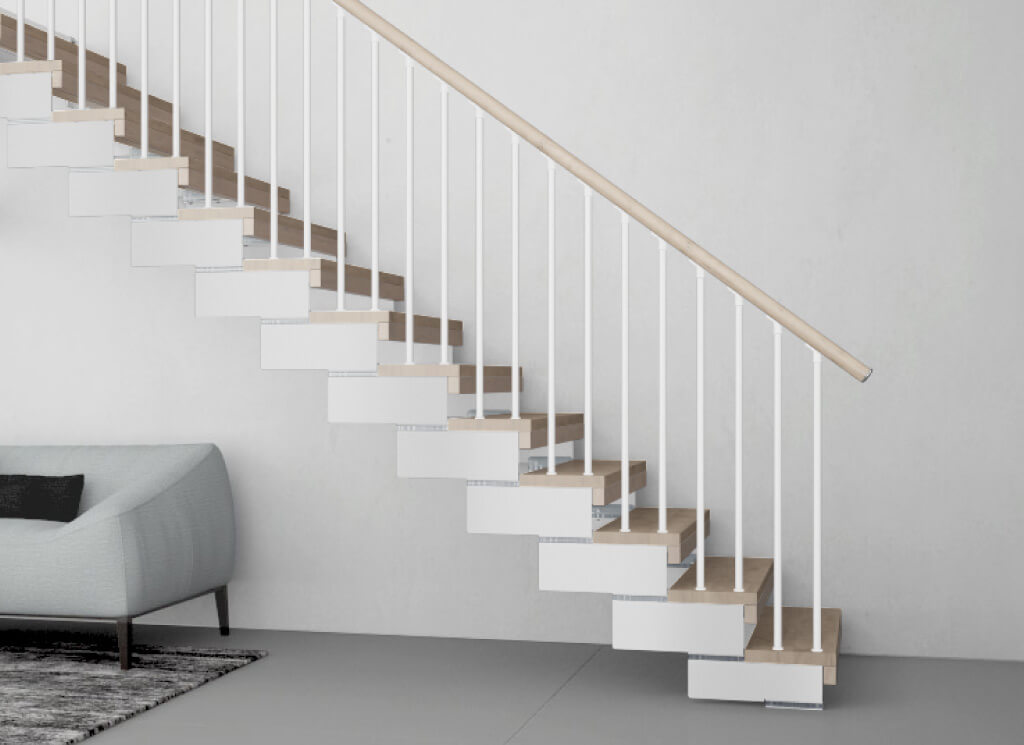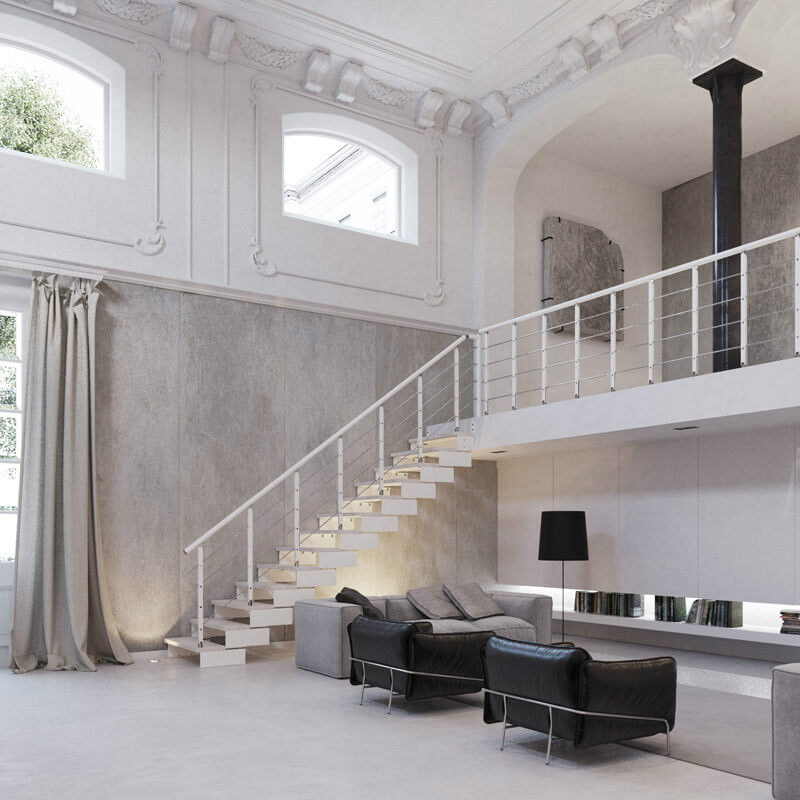 Request your free Composity brochure